Anxious Brides to Be Scoop Up Their Gowns at Bankrupt Bridal Salon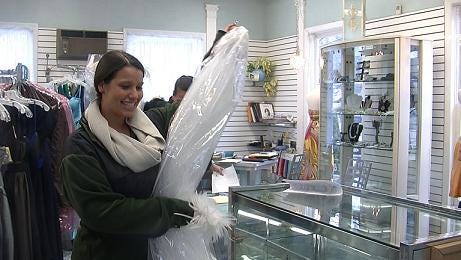 Anxious brides to be stood in the rain today outside the bankrupt Cinderella Bridal Salon in West Warwick, hoping to finally get the gowns they paid for.
For weeks, they had no idea if their dress was still in the store. On Thursday, some issues were settled, but not all of them are happy about it.
A motion signed by a judge on Tuesday, gave the receiver Mathew McGowan permission to hand over the gowns to their rightful owners. 100 complaints were filed with the Attorney General's office, but there were only 47 dresses in the store.
On Thursday, those lucky ladies came to take their gowns home, but just as this wedding nightmare was about to end, it took an emotional turn for one bride to be.
The the last time the ladies were at Cinderella Bridal Salon, they'd found the wedding gown of their dreams. But after Cinderella Bridal Salon in West Warwick went bankrupt, they weren't sure if they'd ever see their gowns again.
Jennifer Koussa is skeptical about whether she'll get her gown today, but she's trying to remain positive.
"I'm being very optimistic that it's in there," said Koussa.
Amanda Costello says she trusted the owners with her dress.
"They told us to leave it here and that they'll do the alterations for us, and so we said ok we'll let you store it, and it was obviously a bad idea," said Costello.
Lorraine Stone was waiting to Pick up her dress she bought for her son's wedding.
"It was disappointing, but hopefully it will have a positive ending and we'll walk out all happy," Stone laughed.
One-by-one skeptical soon to be brides were let into the salon to hunt down their dress.
The ladies who showed up on Thursday were told their dresses were in the store, but none of them believed it until it was in their hands. For many, the uncertainty faded as they walked away, gown in hand.
But Danielle Zarella wasn't so lucky. Her name was on the wrong dress. But after picking through the racks, her mom found the right one.
Zarrella's mom Donna said, "I'm pretty happy right now."
Their excitement grew, until Zarrella found out her dress had been given to someone else. Her name had even been scratched out on the tag.
By court order the attorney can't give the dress to Zarrella until the other bride to be turns it down.
Donna Zarrella said, "we left it here once and that was a mistake so we're not going to leave it here."
They didn't leave it there. The attorney was able to fix the mix up and Zarrella walked away with her dress. She was one of 22 who picked up their gowns on Thursday, there were a couple who still didn't get their dress.
If the other dresses aren't claimed within ten days, they along with everything else in the store will be sold to other boutiques in a couple weeks.