A's break up Brandon Workman no-no in 7th, then top Red Sox in 11th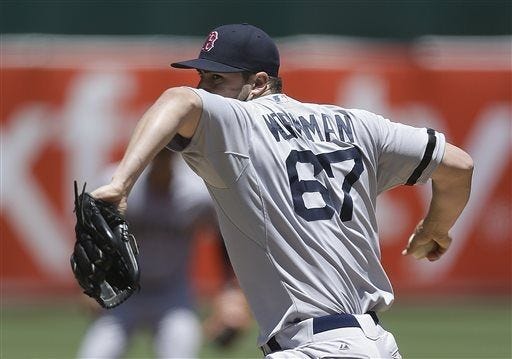 The Associated Press
OAKLAND, Calif. — Josh Donaldson performed like an All-Star, though he'll be spending his break somewhere other than Citi Field New York.
Donaldson homered, then blooped an RBI single with two outs in the 11th inning as the Oakland Athletics beat Boston 3-2 Sunday despite a stellar start by Red Sox rookie Brandon Workman."I got jammed and was able to dink it in," Donaldson said. "It was awesome."He heads into the break hitting .310 with 16 home runs and 61 RBIs. Numbers only AL All-Star third basemen Miguel Cabrera and backup Manny Machado can rival.
"In
our hearts and minds he's an All-Star," A's manager Bob Melvin said.
"Not only did he knock in the winning run, he knocked in all three runs.
That's a pretty good first half but there was no room for him."Workman took a no-hit bid into the seventh inning of his first major league start. Coco Crisp broke it up with a leadoff infield single.
He became the first Red Sox pitcher in 79 years to allow three or fewer baserunners in his first major league start.Workman
had pitched in only one big league game, getting roughed up over two
innings in relief at Seattle on Wednesday. He became the third rookie in
four days to pitch no-hit ball into the sixth inning of his first big
league start — Houston's Jarred Cosart and Cleveland's Danny Salazar did it in their major league debuts.Donaldson hit a two-run homer off Workman to tie it in the seventh, then singled with two outs in the 11th.
Matt Thornton (0-4) lost in his Red Sox debut."That was pretty much all I have right there," Donaldson said of his blast. "He made a mistake. I hit it hard."Ryan Cook (2-2) worked two innings for the victory."It's kind of our motto since the end of last year to just keep grinding," Cook said. "We have a good feeling every day."Pinch-hitter Chris Young drew a leadoff walk in the Oakland 11th and moved up on a sacrifice. After a two-out walk, Donaldson singled to right field."I
know he's an aggressive hitter and he's looking to win the game right
there," Thornton said.
"I'm looking to make a pitch down and in. I
thought I made a pretty good pitch and he was able to fist it over there
and drop it right in the perfect spot. If you don't walk the leadoff
guy, that situation doesn't come around."Dustin Pedroia and Brock Holt each drove in a run for the Red Sox, who have not won a series in Oakland since July of 2006.Workman
gave up two hits, walked one and struck out five in 6 1/3 innings. The
24-year-old righty was a combined 8-2 at Triple-A and Double-A this
season."He was very poised, very good mound presence, good
composure," Red Sox manager John Farrell said.
"I thought he had very
good stuff. He stayed out of the middle of the plate for most of the
day, multiple pitches for strikes."All-Star Bartolo Colon
gave up two runs on eight hits over 6 1/3 innings. He did not walk a
batter and struck out four. The Oakland pitcher will not play in the
All-Star game after starting Sunday.
The Red Sox loaded the bases
with two outs without benefit of a hit in the 11th before Cook caught
Holt looking at a called third strike.Colon retired 14 in a row before giving up Ellsbury's single leading off the sixth. After Daniel Nava singled, Pedroia followed with an RBI single to give the Red Sox a 1-0 lead.Mike Carp doubled to lead off the seventh and scored on Holt's single, which ended Colon's day.Jonny Gomes
was ejected from the game after striking out to lead off the ninth.
Gomes tried to call time, but it was not granted and he took a weak
swing for the third strike.