Atheist group demands Woonsocket to remove veteran memorial, after complaint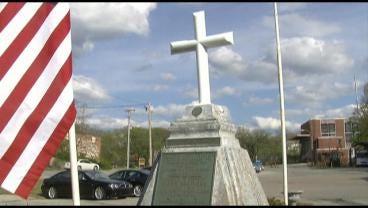 An atheist group based in another state is demanding that a religious themed memorial be removed from publicly owned property.
The memorial in front of Woonsocket's number 2 fire station has stood since 1921, and honors the service and memory of 4-Woonsocket veterans who died in 2-world wars.
Now its being called illegal, because the memorial is topped by a cross, and stands on public property.
For Debbie Flitman and members of the freedom from religion foundation… This is simple… A cross can't be on public property.
"It's illegal, and we know that. And just because its been there for 90-something years, doesn't make it right." said Debbie Flitman, whose a member of the Freedom From Religion Foundation, the group that's trying to get the memorial removed.
A woman who lives in Woonsocket but has not been identified was offended by the memorial, and contacted the Freedom From Religion Foundation, which is based in Wisconsin.
The group then sent a complaint letter to Woonsocket Mayor Leo Fontaine, asking that the cross be removed from the memorial.
"If they want to have a religious symbol on it, well go ahead, just not on city property." said Debbie Flitman.
The request is not sitting well with many in Woonsocket, who feel that the city should fight the request, even if it costs the city money it doesn't have.
"We're angry that we're broke. We're angry that we're going to pay a supplemental tax, and now this group gets in, and wants to disturb the hornet's nest. Bring it on. Because we're looking for someone to take it out on." said Woonsocket resident Lorraine Corey.
Many veterans are especially vexed by the situation.
They feel that removing the cross, would be an insult to the 4-servicemen it honors, and they believe the request to remove it is ridiculous. Even if the cross's presence on public land is illegal.
"This is just an attack, a terrible attack, its sorta like another form of terrorism, is what I think it is." said Woonsocket veteran Richard Schatz.
"You don't know whether to be angry that these people even exist, or do you feel bad, because they have nothing better to do. Its just sickening at this point." said disabled Marine vet, Tom Poole.
The request to remove the cross comes just months after the Cranston prayer banner controversy was finally settled.
And some power players in Rhode Island fear that cases involving separation of church and state, will now become more and more routine.
"I'm not surprised because of what happened in Cranston. I figured that was just the start. Where is it gonna stop? I mean this is just the beginning." said North Kingstown Rep. Doreen Costa.
Most residents that ABC6 spoke to say that they want the city to fight for the memorial.
The City of Woonsocket meanwhile says it is weighing its options.
Several veterans groups have come forward to say they will definitely fight to keep the memorial intact where it is.
They say they've already been contacted by lawyers willing to fight the request through the courts for free, if there's any litigation involved.
And if the memorial is forced off public property, the same veterans groups say they'd love to have it displayed, on their property.