Atlantic Beach Club celebrates a bittersweet end to summer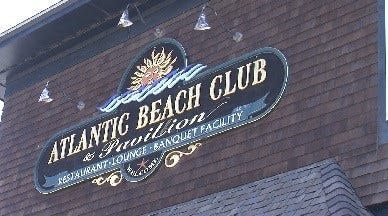 By Alana Cerrone
acerrone@abc6.com
Today began like any other Labor Day down at the Atlantic Beach Club. A packed beach, bartenders mixing up some frozen favorites, and the band getting ready to play live music.
Labor Day marks the end of summer – and at ABC, the end of live music on their patio. It's been this way every year since the club opened.
Elaine Holder, General Manager at ABC, says, "We've been really happy to have some great bands play throughout the last 24 years and it's just a fun spot…I don't think it can be replaced."
So what makes this year different? ABC is reopening next summer, but at a new location less than a half mile down the road, and will go by the name 'Atlantic Resort'.
"It has a fabulous view of the ocean and the pond…it'll encompass quite a resort. It'll be wonderful."
In the meantime, it's business as usual at ABC until January 2. That's when Longwood Events takes over and starts renovations to turn this property into a wedding and special events venue.
The beachfront location can't be beat, but regulars tell us it's the staff that's kept them coming back.
Stephen Doherty, who summers in Newport, says, "The staff at the Atlantic Beach Club is like second family. They always take care of us, from the parking lot guy to the bartenders."
Ahmed Eino comes down from Boston every year, and says he doesn't mind the change.
"I've been coming every Sunday for 3-4 years. Absolutely I will come, I will keep coming."
"If they bring the astrobombs at the new place, I'll be up there for sure."
If you're wondering what an astrobomb is…it's one of ABC's signature frozen drinks, and yes, staff tells me they definitely plan on bringing them back. The general manager says they'll plan to reopen at their new location in June of 2016.
(C) WLNE-TV 2015