"Columbine-Style" Threats on Facebook, Keeps Attleboro Pair Behind Bars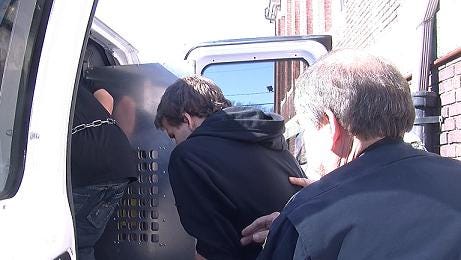 Two Attleboro men are behind bars tonight after posting "Columbine-like" threats on Facebook, talking about "mass killings" aimed at Attleboro High School. The threatening posts started after an Xbox game.
The threats come just one week after the Ohio High School shooting, where five students were shot, three of whom died.
The former Attleboro High School students say they didn't mean what they posted.
We spoke with the father of one of them who was brought to tears, telling us he understands why his sons jokes online are no laughing matter.
The father of one of the men charged with making threats toward Attleboro High School spoke to ABC 6 outside of court on Tuesday.
Bernard Ringuette, says he wishes he would have stopped his son from making the violent comments on Facebook.
"I just feel like I should have been protecting him because he's still my baby so I feel like I failed a little bit. I'm with him everyday and I just feel like I failed him, so he's still my baby and I love you," Ringuette told ABC 6 as tears streamed down his face.
Attleboro Police arrested 20-year-old Ryan Ringuette and 18-year-old Natick Sands on Monday after violent comments between the men on Facebook were reported to school officials.
A close friend of the former Attleboro high students, Ryan Gomes, says it was all a joke.
"it was a joke gone wrong it was a bad joke gone wrong."
Gomes says the two were playing Call of Duty when Sands posted his first comment.
Sands wrote,"people wonder why I talk about mass killing sprees all the time, FED UP".
Gomes says that they were just referring to the game, Call of Duty.
"It was something about a mass killing spree, well that's what it's called in the video game when you kill three of four people it's called a killing spree," said Gomes.
Ringuette then comments "I'm with you," and then writes "Columbine over again."
The posts go on to specifically target Attleboro High School and the school resource officer.
Gomes says, "someone got scared and said something but it was a joke."
It's no joke to the courts. The judge gave both men 7,500 cash bails, which neither of them was able to pay. They were transported to the Dartmouth House of Corrections.
The very real consequences of what happens when social media isn't taken seriously, has Ringuette filled with regret.
Ringuette says, "you can't get away with anything on there you can't you just cant"
Both men are in violation of their current probations, unrelated to this incident. The judge also ordered the men not to use social media and to get mental health evaluations. T
hey will be back in court march 19th