Attleboro Native and URI grad in Brazil for World Cup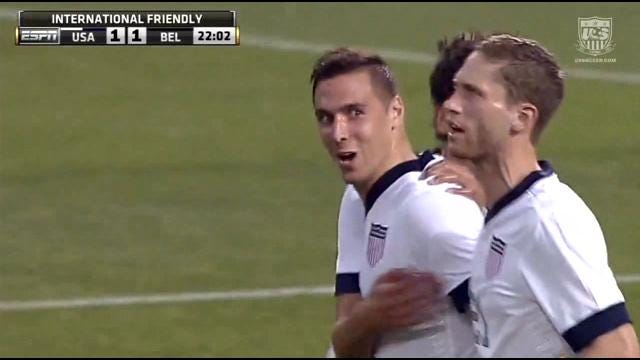 By: Alexandra Cowley
acowley@abc6.com
URI and Attleboro have some serious bragging rights as the World Cup kick off Thursday in Brazil. Attleboro native and URI grad, Geoff Cameron is playing for Team USA.
Cameron is about to play in the biggest game of his life. He'll be in the starting line–up for the World Cup in Brazil. There to cheer him on is URI men's soccer head coach Gareth Elliott. Elliott coached Cameron for two years at the University of Rhode Island. He says he knew then Geoff would make it big.
He's made a name for himself in the world of soccer. Fighting and kicking all the way to the World Cup. But before he made it to the biggest stage in the world of soccer, Cameron was training in Southern New England.
The soccer star is from Attleboro, where he played youth soccer for Bayside FC.
"I always try to go back and to go Attleboro and give back to the teams I grew up playing for," Cameron said in an interview with U.S. Soccer.
Cameron went on to play at Providence Country Day School and URI, where it was clear says head coach Gareth elliott, Cameron was 'the real deal."
Elliott skyped with ABC6 News from Brazil, "It was easy to see that he was supremely talented and we all believed that he would go on and play at the professional level at that time."
Elliott made the trip to Brazil to be there for Cameron, who he's stayed in contact with. Even after his climb to the major leagues. He was called up to MLS right after he graduated from URI.
Coach Elliott says Cameron earned his spot on team USA.
"He just worked extremely hard, he would stay out there after practice working his technique doing whatever he needs to do," Elliott said.
Cameron's mega–success has put URI soccer on the map.
"It shows what is capable of athletes coming out of URI and hopefully it sets the benchmark for the future players coming through our program as well," Elliott said.
Elliott says 13th ranked Team USA has fierce competition, but his confidence remains in his star player.
"I mean this is the world's best your playing against so anything can happen. I'm not saying that they're not going to qualify, I think they will if they get their techniques right and, if Geoff plays the whole time," laughed Elliott.
The World Cup games begin Thursday. USA faces off against Ghana on Monday.
(C) WLNE-TV 2014
.