Attleboro school workers fired after children denied lunch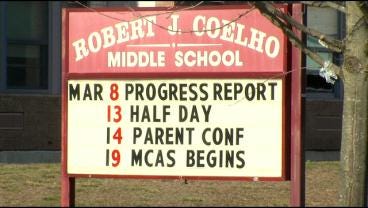 By: Melissa Toupin
Coelho Middle School student Maxine Laguerre isn't one to watch from the sidelines, but earlier this week she helplessly stood by as two of her friends were denied school lunch.
"The assistant principal was telling kids that they couldn't charge anymore, and the lunch ladies were making the kids throw their lunches away," said Laguerre who is in the 7th grade.
25 Attleboro students who couldn't pay their bill left the lunch counter empty handed or were forced to toss out their hot meal. This went on for four lunch periods.
"The fact that some of these boys and girls were denied access to their lunches is inexcusable," said Holly Van Seggern, Vice President of Marketing and Community Relations for Whitsons.
Whitsons has been providing school lunches in the Attleboro School District for four years. The company says cafeteria workers acted on their own, and say this was an isolated incident. An investigation showed that four employees were responsible.
"these individuals will be subject to disciplinary actions including termination," said Van Seggern.
The Attleboro School District is also launching its own investigation. Several staff members including the Vice Principal we're in the cafeteria at the time of the incident.
"It just doesn't make sense. Its like people don't think anymore," said Raymond Laguerre whose two daughters attend the middle school. "Anyone associated with it should be terminated."
Whitsons is planning on providing free lunches to Coelho students on Wednesday, Thursday, and Friday of next week. They will also host a barbecue in the near future.
The food service provider says several steps are being taken to ensure this doesn't happen again including extensive re-training of workers, and enacting a new policy where Whitsons directly notifies parents when student lunch balances near $0.
Students who don't have enough money in their pre-paid account are supposed to be given a cheese sandwich and milk.
The outstanding balance at Coelho was about $1800.
(C) WLNE-TV 2013