City: odor problem not fixed, Attleboro wastewater plant will remain closed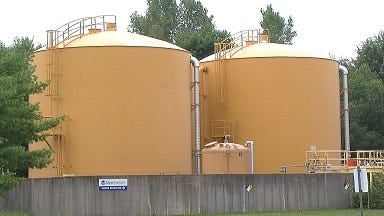 By: Alexandra Cowley
A wastewater treatment plant in Attleboro, known for its horrible stench,has been ordered to remain closed tonight.
Neighbors have been complaining about the foul odor for years, so NewStream was ordered shut down last week. The plant was hoping for a second chance at a special hearing Thursday night, but the city wasn't convinced.
Armed with charts and data, executives from NewStream Wastewater Treatment Plant made their case for why they should be able to reopen.
"We spent a lot of time trying to figure out, are we dealing with a problem that were causing, or a problem that someone else is causing,"said NewStream president Michael Spoor.
NewStream was issued a "cease and desist" order by the Attleboro Health Department last week after it failed to fix the foul fumes coming from the plant. At a special hearing Thursday night, they didn't prove they've solved the problem, so the plant must remain closed.
"All we know is that the odors continue to be emitted off site, and that has not been corrected," explained Dr. Christopher Quinn of the city health department.
Residents say the odors cause nausea and even vomiting in some cases.
"We started noticing the odor emanating really strongly to the point where my kids came inside and said mom I can't go outside and play anymore its just too much,"explained resident Gay Barbosa.
Barbosa is just one of many fed up with the smell and unanswered questions.
"I want to know what were breathing," demanded Roxanne Houghton.
Houghton says she's pleased NewStream will stay closed, but disappointed with the lack of answers.
"I don't know why we can't get an answer because I don't believe that nobody knows," said Houghton.
ABC 6 tried getting an answer from the representative for DEM at the meeting and from NewStream, but neither would comment.
"If you can't figure out what the smell is, and no one can then, we should probably take precaution," said Attleboro City Councilor Jeremy Denlea.
The plant still has an invitation to provide more evidence that it can get rid of the stench. Until then, it will remain closed.
(C) WLNE-TV 2013