Attleboro's Geoff Cameron a Finalist for Male Soccer Player of the Year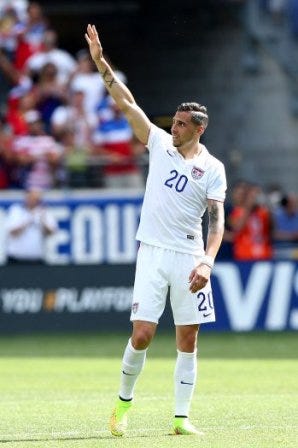 URI news release…
KINGSTON, R.I. – U.S. Soccer has announced that former Ram Geoff Cameron (Attleboro, Mass.) is one of five players from the United States Men's National Team in the running for 2016 Male Player of the Year honors.
A standout in the 2016 Copa America Centenario, Cameron started a career-high 12 matches and led all USMNT defenders in total appearances this past year. He was one of only two players to appear in every minute of Copa America Centenario play and was the only U.S. player to start all six matches of Semifinal Round World Cup Qualifying.
The U.S. earned seven of its nine clean sheets with Cameron on the field, while the team's goals against average per 90 minutes was an impressive 0.83.
With the Attleboro, Mass. product unavailable (due to injury) for the team's last two World Cup Qualifying games, the USMNT was outscored 6-1 in a pair of losses to both Mexico (2-1) and Costa Rica (4-0). In the World Cup Qualifying matches that Cameron did play in, the USMNT was 3-1 with a trio of shutout victories over Trinidad & Tobago (4-0), St. Vincent and the Grenadines (6-0) and Guatemala (4-0).
In addition to Cameron, forwards Jozy Altidore, Clint Dempsey and Bobby Wood and midfielder Michael Bradley are finalists for U.S. Soccer's Male Player of the Year Award.
The winner will be determined by votes collected from National Team and Youth National Team coaches and staff, MNT players who have earned a cap in 2016, Major League Soccer and North American Soccer League head coaches, select media members, former players and administrators. The winner will be announced on Friday, Dec. 9, live on FS1.
Two of the nominees have won the award before. Dempsey has earned it three times, in 2007 and then back-to-back in 2011-12. Altidore collected the honor in 2013. Landon Donovan holds the record for most Male Player of the Year awards with four honors (2003, 2004, 2009, 2010).
The U.S. Soccer Male Player of the Year has been awarded since 1984, when midfielder Rick Davis earned the inaugural honor.