Autistic teen from North Providence gets prom wish granted thanks to dad's Facebook post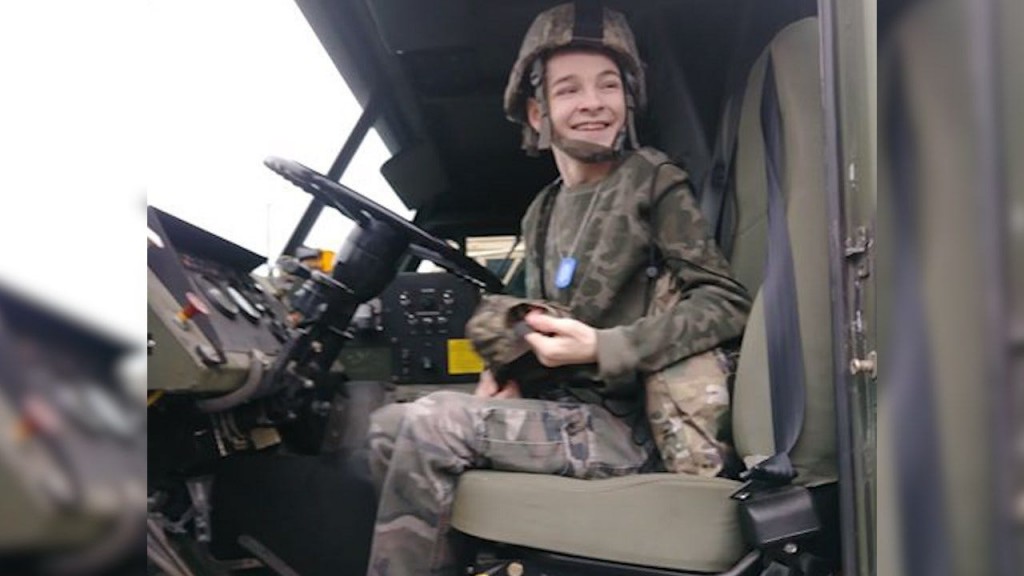 By: Amanda Pitts
alpitts@abc6.com
@APittsABC6
NORTH PROVIDENCE, R.I. (WLNE) – A North Providence teen will have an extra special prom this year after his dad's Facebook post asking for help was shared hundreds of times.
18-year-old Tyler Gaumond of North Providence has grown up loving everything military, but with being legally blind and autistic, he'll never get to fulfill his dream of joining the United States Army.
His dad stepped up, posting on Facebook last Sunday, asking the community to help get his son a military escort for the senior prom at North Providence High School.
"I put the post out and within 24 hours he had 400 shares, over 100 comments, over 100 likes," said David Gaumond.
The post caught the eye of the Rhode Island Army National Guard, who invited the teen to Camp Fogarty Sunday morning.
"They had a whole squadron waiting for us when we got there," said Gaumond.
The post also got the attention of the Combat Veteran's Motorcycle Association. They offered to provide Tyler with two-dozen combat veterans on motorcycles as escorts, and a Humvee for him and his date to ride in.
In addition, the family said an Army-Navy store in Pennsylvania reached out to the family, saying they are donating a full Army service uniform for Tyler to wear to the prom.
Gaumond said he can't believe one post on Facebook has made such a difference in his son's life.
"I've been crying cause I'm so happy with joy and everything for him, to see him do something he wouldn't normally be able to," said Gaumond.
The teen has made it through many obstacles in his life. His dad said Tyler was born completely blind, and through surgery can now see a little better, but is still legally blind. He's also special needs, with learning disabilities and autism. But, his dad said, that doesn't stop him from being an everyday kid.
"I want him to experience the same thing that regular, normal kids experience because in my eyes he's 100% normal."
(c) WLNE-TV 2019