"Before I Die" boards pop-up in Providence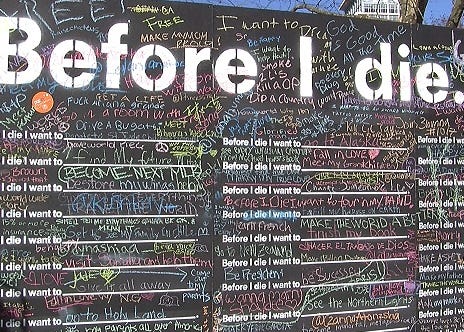 By: Chelsea Priest
cpriest@abc6.com
If you had ONE sentence to sum up your ultimate goal or wish, what would you write? "Before I Die" boards showed up in Providence on Tuesday on Westminster Street and in Kennedy Plaza. People walking took an extra minute to stop and think.
Errik Yesz says, "I think it's challenging for people to find out what's their ultimate passion for living." Neil Amper says, "I think it's a wonderful project, it gets people thinking."
The giant black boards have chalk provided for anyone to come and write down their ultimate goal or wish. The boards are actually part of a global art project. Over 200 have been made and they are produced in 15 different languages.
Everything from traveling to the moon, to falling in love, to becoming a millionaire is expressed on the boards. Some of the writers said what they were hoping for. One said, "I wrote to be content." Another said, "I wrote that I wanted to have my family back together again."
The boards will be up until December 30th, that's when they will be taken down for the winter. You can expect to see them pop-up in other places next spring. The "Before I Die" boards are part of a bigger project called Pop-Up Providence. More details will be coming out later this week.
(C) WLNE-TV 2013