Big Papi Wins 6th Silver Slugger Award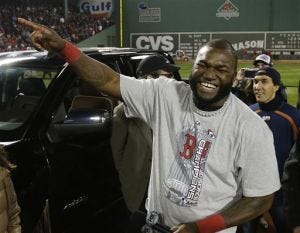 Red Sox news release…
BOSTON, MA—Red
Sox designated hitter David Ortiz has received the 2013 American League
Louisville Slugger Silver Slugger Award at his position. The
announcement was made tonight by Louisville Slugger on MLB Network.
Silver
Slugger award winners were determined by a vote of managers and coaches
who named the players they felt were the best offensive producers at
each position in both the American and National leagues in 2013. They
were not allowed to vote for players on their own teams.
This
marks Ortiz's sixth American League Silver Slugger Award at designated
hitter, also earning the honor in four straight seasons from 2004-07 and
in 2011. It extends his record for Silver Slugger Awards as a DH
(Edgar Martinez and Paul Molitor each earned 4) and ties him with Wade
Boggs and Manny Ramirez for the most ever Silver Slugger Awards for a
Red Sox batter.
Ortiz led the Red Sox while ranking among American League leaders with a .309 average (6th), 30 home runs (T-8th), 103 RBI (7th), 76 walks (T-7th), 27 intentional walks (1st in MLB), a .395 on-base percentage (4th), .564 slugging percentage (3rd in MLB), .959 OPS (4th in MLB), 70 extra-base hits (5th), and 292 total bases (8th)
over 137 regular-season games in 2013, including 129 contests at DH.
He led all designated hitters in average (.314), OBP (.398), SLG (.565),
OPS (.964), runs (80), doubles (37), home runs (28), extra-base hits
(67), RBI (98), and intentional walks (26) while at the position.
The
37-year-old became the first player to lead the Red Sox in average,
home runs, and RBI since Manny Ramirez in 2001 and was the oldest major
league player to lead his team in the Triple Crown categories since
Barry Bonds for the Giants from 2002-04 at 38-40 years old.
Named
an All-Star for the ninth time in 2013, Ortiz recorded his seventh
career season with at least 30 home runs and 100 RBI, all since joining
the Red Sox in 2003. He tied Ted Williams for the most such seasons in
Red Sox history and has the most by a major league left-handed hitter
since 2003. Ortiz tallied his eighth season with at least 35 doubles
and 25 homers, tied with Lou Gehrig for the second most such campaigns
in major league history after Albert Pujols' 10. He had his fourth year
batting at least .300 with 30 home runs and 100 RBI, tied for the
fourth most such seasons in AL history among left-handed batters behind
Babe Ruth (12), Lou Gehrig (10), and Ted Williams (7).
The
2013 World Series MVP, Ortiz set the all-time mark for hits as a
designated hitter (1,689; now at 1,758) with a second-inning double on
July 10 at Seattle, passing Harold Baines (1,688). He collected his
2,000th career hit on September 4 vs. Detroit and ended the
season as one of four active players with 2,000 hits, 400 home runs, and
1,400 RBI.
Boston
has been represented on the AL Silver Slugger Team in 12 of the last 13
seasons beginning in 2001 and Red Sox players have won 37 Silver
Sluggers since the award's inception in 1980.
— RED SOX —