Baby dolphin rescued from beach in Little Compton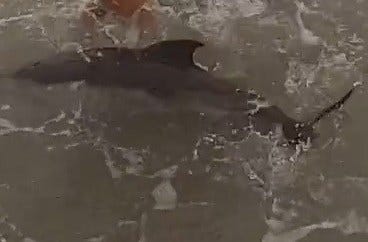 Samantha Lavien
Twitter: @samanthalavien
A baby dolphin attempting to beach itself was rescued from South Shore Beach in Little Compton around 9 Wednesday morning.
The whole ordeal was captured on camera.
A lifeguard who helped assist in the rescue says the baby dolphin was no longer than 3 feet. She says she and some other lifeguards stepped in once the dolphin made it to calf deep water.
"The little baby kept trying to get on the beach. I would turn him around a couple of times and he was so small that I don't think he really knew where he was," said lifeguard Samantha Augustine.
Augustine has been a lifeguard at South Shore Beach for seven years. She says when she got into work Wednesday morning she noticed something unusual.
"Right out here, right in front of us almost we saw two dorsal fins, baby dorsal fins and at first we weren't shore what it was and then we saw two baby dolphins leap out of the water," said Augustine.
Augustine says only one of the dolphins came in close to shore.
"He was kind of struggling to get on the beach so we pushed it out and kept pushing it out until we got it back out past the waves," said Augustine.
Officials from Mystic Aquarium came down after hearing of the incident. Augustine says they were told usually dolphins swim in pods so it is very rare for one to swim alone.
Beach goers learning of the news were very surprised saying they've never seen a dolphin at this beach before.
"Never a dolphin just several seals," said Patty Mareno.
"I wish I was here to see it. It would be great to see but it is very unfortunate for the circumstance that he was probably trying to beach itself," said Janet Devine.
Augustine tells me once the baby was reunited with the other dolphin they stuck around for 10 or 15 minutes before swimming out to sea.
(C) WLNE-TV 2014