Providence Baby Clinging To Life After Accident, Family Speaks Out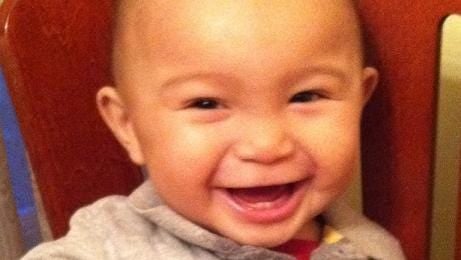 One day after falling into a bucket of water and bleach at his home in Providence, a baby is clinging to life. Tonight, his grandmother is talking about the horrific accident and the family's prayers for a miracle recovery.
Tonight, a hopeful sign for the family, the baby has taken some breaths on his own, but machines are still helping to keep him alive.
Nidia Rodriguez says she found out in a phone call yesterday afternoon that her 10-month old grandson, Sage, had been in a terrible accident. He'd fallen head-first into a cleaning bucket and wasn't breathing.
"We could never imagine something like this to happen at all, never at all, it's just a tragedy. We're a very close family to begin with, so we're all just staying together and praying that he makes it," said Rodriguez.
Rodriguez says her 22-year-old daughter was mopping the kitchen floors. She'd put up a blockade to keep Sage and his three little cousins from getting in. But Rodriguez says one of the older kids moved that barrier and sage fell into the bucket of water that police say was mixed with bleach.
His mother says Sage was in the bucket for no longer than a minute, but by the time she pulled him out, he was unresponsive.
Rodriguez said, "It was just another kid it was just an accident never thought this would happen especially with a bucket a mopping bucket."
The bucket the baby fell into was five gallons and police say it only had a couple inches of water in it but doctors say that's all it takes, which is why many buckets come with a warning label that kids can fall in and drown.
Pediatrician Robert Edan says this accident is twice as bad because there was bleach in the liquid.
"If it's big enough for your head to fit in, it's big enough to kill you. It's not simply lack of oxygen to the brain, in addition it's burning to the airway so it's a double whammy in the worst possibly way."
Sage's family is staying positive though, hoping for a miracle.
We're told Sage is still in intensive care tonight at Hasbro Children's Hospital breathing on a ventilator. His grandmother said he has a regular heart beat and was breathing a little on his own last night.