Backyard Oasis winner preview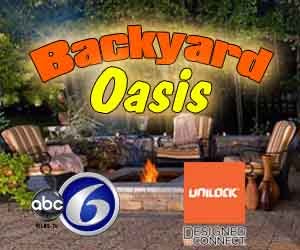 By Chelsea Priest
Taryn Hurd never told her husband John that she entered a contest to win a backyard oasis. The Portsmouth resident says, "we've always wanted to do something with our yard but we've just never had the chance. My husband, he does a lot. He works very hard for us and does a lot for a lot of people, so I thought, what a great opportunity to get something done for him."
When she found out her essay was the winner out of hundreds of entries, she was shocked and then got to surprise her husband. He says that they are very excited, and that it's still very surreal.
The couple has four children, ages 7, 5, 3, and 10 months. They have lived in their home for seven years but besides the kids swing set, haven't been able to do much with their yard.
Now with the $10,000 ABC6 and UNILOCK make over the couple will have a dream patio and fire pit. Marc Petrowicz of UNILOCK explained why Taryns' essay stood out, "the size of the family, the need, the wonderful letter written by the wife for the husband and we were very excited about that."
Taryn read some of her essay which said, "to give my husband a backyard oasis would be amazing, to just once give to him what he gives to so many others, to have a beautiful space that he can enjoy with everyone he loves would truly be a blessing."
Today the couple met with UNILOCK to pick the color and style of the patio, and in just a few weeks, the transformation will begin.