Bad drivers or bad roads, you be the judge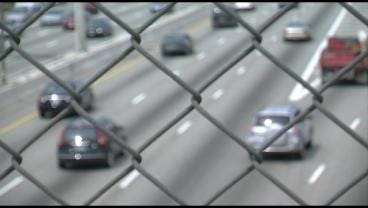 Drivers in Rhode Island and Massachusetts may be getting a bad rap when it comes to driving. GMAC Insurance ranks both states among the worst in the country. What if the bad driving record wasn't because of the drivers, what if the roads are to blame?
We set out on the roads of Rhode Island to find out.
If you drive in Rhode Island, then a merging mess on the interstates, is something you experience everyday.
"I think the way they're set up are horrible," said Leon Marcotte.
Boston native Ron Marinick agrees, "absolute garbage, I think the roads are terrible in this state."
Imagine you're taking an on-ramp in Lincoln to get onto 146 South. It brings you to a stop, instead of a yield, because there's no opening. You've got maybe a football fields length to get up to speed and jump into traffic, but as soon as you do, watch out, cars are trying to get off at the exit placed right after the on-ramp. It's a set up seen all over the Ocean State.

Robert Rocchio is managing engineer at the traffic department.
Rocchio says, "these roads were built 50 to 60 years ago, they were built to accommodate 60 to 70 thousand vehicles per day."
Today, Rocchio says parts of 95 see more than 180 thousand cars a day. That's nearly three times the amount of traffic these roads were meant to handle.
It's a jam, that's isn't slowing down.
"Ideally we'd love to space the exit ramps every mile or every two miles like some states can, but in Rhode Island we just don't have the room. The traffic demand is so heavy that we need those on and off-ramps and when they are close in space it does create issues," said Rocchio.
Rochio says it's likely more changes like the I-195 project won't be made to the roads, because there's no room to expand, and it's too expensive.
"Projects like the I-195 relocation project or what we call the I-way project cost 600-million dollars," explained Rocchio.
Most Rhode Islanders have just gotten used to the way it is on the roads. Leon Marcotte has learned to live with it.
"Having grown up here I'm just used to them you know I know all the little tricks of driving on the highways here," said Marcotte.
Some of those tricks are staying away from trouble spots, like 95 at Thurbers avenue, where 243 crashes were recorded last year.
"You know you're merging with so much traffic all at once it can be very daunting," said Marcotte.
Not to mention the s-curves.
Rocchio said "between those two sets of curves there's a crash almost every single day."
RIDOT has put in signs to alert drivers of accidents and they suggest commuters avoid the interstates during rush hour. Public transportation is an option as well, but other than that, he says their resource tank is empty.
"You have to some degree accept that this is the environment you're dealing with on this roadway," said Rocchio.
Could the environment be behind the "bad driver" statistics for the Ocean State?
Ron Marinick says yes.
"I think the whole system encourages accidents and poor driving behavior," says Marinick.
Even Marcotte who's mastered the ins and outs of the interstates agrees drivers aren't the whole problem.
Marcotte says "as a driver when you see that your community doesn't really care about their roads do you have to care to?"
The roads in Rhode Island are a problem that isn't going to be fixed anytime soon. So, unless you and I change the way we get around, our frustrations behind the wheel will continue.
The Rhode Island Department of Transportation says there are plans to fix parts of Route 146, in Lincoln. Which includes getting rid of some of the on-ramps and exits and making sure it's easier and safer to merge into traffic.
However, the project is a long way out and will depend on funding, as well as environmental factors like drainage and utility lines.