Baker activates National Guard, due to hospital staffing shortage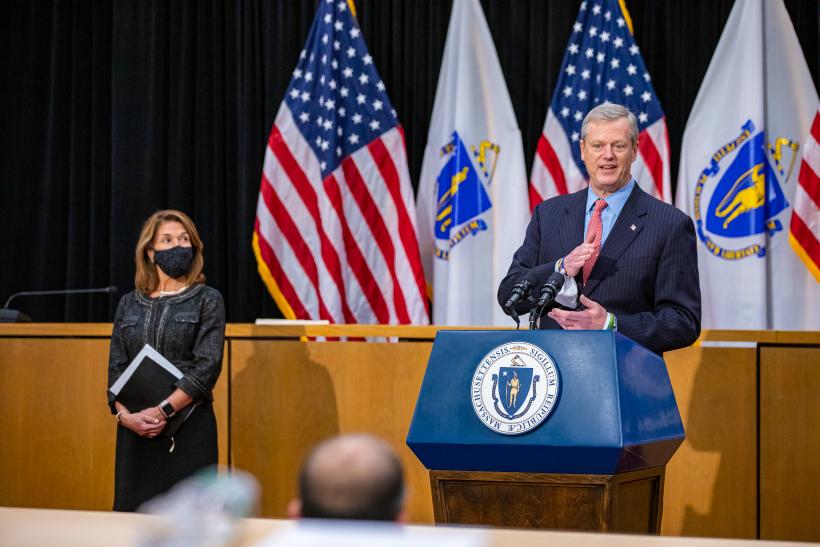 BOSTON, MASS. (WLNE)- Governor Baker held a COVID-19 briefing, addressing measures the state will be taking to support the health care system.
Up to 500 members of the National Guard have been activated by Baker. Beginning Monday, 300 non-medical guard members will provide support to 55 acute care hospitals across the state.
National Guard roles will include non-emergency transport between facilities, patient observers, security support, hospital transport to testing, x-rays, ct scan, food service, delivering patient needs, and more.
National Guard's assistance at hospitals will hopefully open up 500 acute care beds that were lost due to shortages at hospitals, says Health and Human Services Secretary Marylou Sudders.
"We've lost 500 acute care beds in Massachusetts because of staffing shortages, so providing non-medical side of the core will hopefully provide them the ability to open up additional beds," Secretary Sudders said. "The challenge with field hospitals right now is staffing shortages."
All hospitals are directed to postpone or cancel all elective procedures likely to result in in-patient admission, effective 12:01 a.m. on Dec. 27.
When questioned about re-instating a mask mandate, Baker said, "I have no interest in putting a mandate on this issue given all the tools that are available on a statewide basis to the people of Massachusetts. If locals wish to pursue alternative options they can do so." Instead, he updated the face-covering advisory and is urging people to wear them indoors.
With high demand in testing during the holidays, Baker says the state is doing 100,000 tests at the state's sites and distributed 2-million free at-home tests to communities hardest hit by the virus.
"Getting vaccinated and getting a booster if you're eligible is the best thing you can do this holiday season for you and your family," Governor Baker said. "Doing so, will help your friends and family because it is the single best thing you can do to support them and healthcare providers."