Bakery explosion in East Providence sends 1 to hospital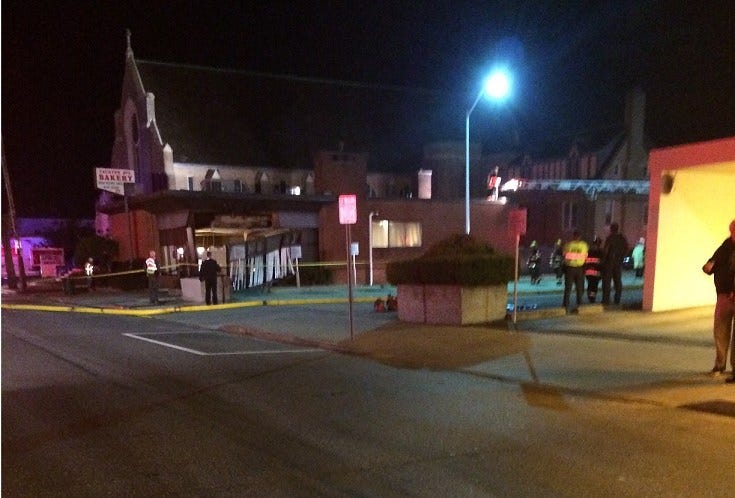 By Nicole Brazier
A cause has been determined for the gas explosion and fire that practically destroyed the Taunton Avenue Bakery in East Providence.
It turns out that the fire started when someone tried to light the pilot light in one of the ovens.
Reports of the explosion came in around 10:30 p.m. Tuesday that the bakery, located at 208 Taunton Avenue, was on fire. One wall of the bakery appeared to be completely blown off.
Fire Chief Oscar Elmasian tells ABC6 that there were 4 workers inside the bakery at the time of the explosion preparing the morning pastries, and they all managed to escape before crews arrived on scene. One employee was rushed to the hospital with burns on 20% of his body.
"The odor of the gas could have been masked by the odor of the baking and everything so no one really noticed the odor of the gas," said Chief Elmasian.
There is still no word on where the gas leak was coming from, but National Grid says crews installed new gas lines in the building on Monday and Tuesday and all equipment was working properly.
In a statement, National Grid says, "On Monday and Tuesday of this week National Grid crews installed a new gas service line to the building in question. Tests taken early this morning show that our equipment in the area was operating properly. We will continue to work with the fire marshall's office in their investigation."
Fire Marshal Jack Chartier says the building is still salvageable: "Although it looks bad, structurally it's not compromised. What you've lost there is the aluminum storefront that came out during the explosion. Fortunately the fire department did it a good job of containing it."
That is good news for the bakery's customers, who said they hope their favorite stop during their morning route reopens soon. "It would be horrible if they didn't. A lot of people come here, young kids, older people. They're very friendly very good people."
Fire crews are still investigating, alongside OSHA and the Department of Health.
© WLNE-TV 2015