Balanced Attack and Strong Team Defense Lead Brown Past Harvard, 5-2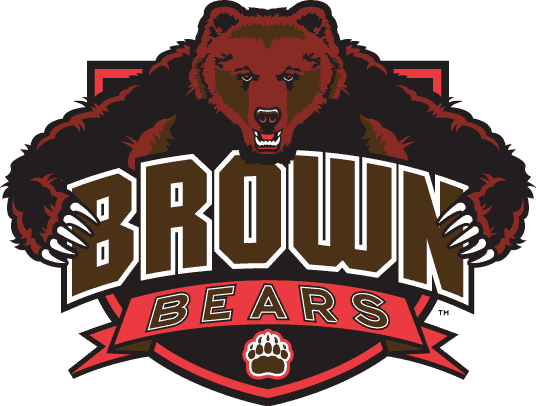 Balanced Attack and
Strong Team Defense Lead Brown Past Harvard, 5-2
PROVIDENCE, RI – The
Brown men's hockey team (6-8-4, 2-5-4) utilized a four-goal second period to
erase a 1-0 deficit and come back for a 5-2 win over Harvard (5-10-1, 3-8-0) in
an ECAC Hockey and Ivy League contest Saturday afternoon at Meehan Auditorium.
Brown
was led by sophomore Matt Lorito (Oakville,
Ontario), who contributed three assists. Junior Garnet Hathaway (Kennebunkport, ME) and seniors Chris Zaires (Aberdeen, NJ) and Jeff Ryan (Media, PA) all tallied a
goal and an assist in the win, which saw five different Bears score and nine
different Bears earn at least a point.
"I
thought the guys played great hockey all weekend," said head coach Brendan
Whittet '94. "We didn't get the result we wanted last night, which is why I was
frustrated. Tonight, they (Harvard) were up 1-0 and we didn't get discouraged.
We scored the next four goals. Everyone contributed. Throughout the lineup, I
thought we had great contributions from everyone."
The
two teams played to a scoreless tie during the opening 20 minutes with Harvard
outshooting Brown, 10-6. The Crimson took a 1-0 lead just 2:04 into the second
period when Tommy O'Regan converted a two-on-one rush with Brian Hart.
However,
Brown responded just 47 seconds later on Hathaway's second goal of the year.
Lorito started the play when he stole the puck from a Harvard defenseman along
the end boards and skated around the left side of the goal. With Peter Traber
guarding the left post to deny the wrap-around, Lorito slid the puck across to
Hathaway, back-door, for the one-timer.
The
Bears' offense came alive following Hathaway's goal, outshooting Harvard, 23-8,
during the period and scoring three more times during the next 7:17 to open up
a 4-1 lead.
Zaires
converted a feed from Ryan from the left side of the crease for his fifth goal
of the year at 6:50 and then just 1:06 later, sophomore Ryan Jacobson (Greenwood Village, CO) took a pass from Lorito at
the left faceoff circle and fired it into a partially open net with Traber
caught out of position.
Freshman
Nick Lappin (Geneva, IL) capped the
scoring run when he knocked in the rebound of an attempt by Lorito on a Brown
power play, giving Brown a 4-1 lead at 10:08. Junior Dennis Robertson (Fort St. John, British Columbia) started the play
when he sent the puck up to Lorito near the right point. Lorito fired a shot
through traffic that Traber saved, but the puck bounced right to Lappin in
front of the goal for the easy tap-in.
The
Crimson got one back late in the period, as Hart collected his second point of
the night when he beat senior Anthony
Borelli (Grand Island, NY) from the bottom of the left faceoff circle with
each team skating four players.
Ryan's
goal at 7:25 of the third period accounted for the 5-2 final score and was
perhaps one of the nicest goals of the night. Skating in on a two-on-two,
Zaires carried the puck down the left wing and passed to Ryan on his right. He
drove towards the net, and wristed a shot over Traber's glove that hit the
inside of the post before bouncing out.
Brown
played strong team defense throughout the remainder of the game, weathering two
separate Crimson power play chances, including one in the final three minutes,
during which Harvard pulled Traber for a six-on-four advantage.
For
the game, Brown outshot Harvard, 35-28. Borelli finished with 26 saves, while
Traber made 30 for the Crimson.
"I am very happy for the guys that
they were rewarded for their work ethic and how we play each and every game,"
said Whittet. "It was a great effort and hopefully we can build off of it."
Brown continues action tomorrow
afternoon next weekend when it makes its second of three straight trips to New
York to face League foes Colgate and Cornell. The Bears meet the Raiders on
Friday night at 7:00 and the Big Red on Saturday night, also at 7:00.
HARVARD 0 2 0 x – 2
BROWN 0 4 1 x – 5
First period – No
Scoring. Penalties – H, 1-2; B, 2-4.
Second period – H, O'Regan
(Hart), 2:04; B, Hathaway (Lorito), 2:51; B, Zaires (Ryan, Pfeil), 6:50; B,
Jacobson (Lorito, Hathaway), 7:56; B, Lappin (Lorito, Robertson), PP, 10:08; H,
Hart (Vesey, Ford), 17:41. Penalties – H, 3-6; B, 1-2.
Third Period – B, Ryan
(Zaires, Goldberg), 7:25. Penalties – H, 0-0; B, 2-4.
Saves
H, Traber (58:28), 6-19-5-x – 30; B,
Borelli (60:00), 10-6-10-x – 26.
Attendance: 1771