Ballot mishap concerning voters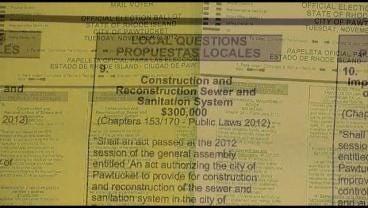 By: Liz Tufts
A ballot printing mishap in Rhode Island now has folks questioning the integrity of their vote.
The ballots mailed out have a printing mistake. It's been corrected and new ballots have been mailed out, but at least one man is concerned his vote won't count or that it could lead to voter fraud.
Richard Belham is confined to his bed inside his Pawtucket home due to a stroke and cancer. Since making it to a polling site on election day is out of the question, he contacted the board of elections to get a mail–in ballot. "I went through it. It looked good and I filled it out and mailed it in. I even made sure I had two witnesses, " says Belham.
Belham thought he did everything right but a few days later a second ballot showed up in the mail. It also came with a letter, notifying Belham the first ballot he got was misprinted with an error. One category was supposed to say "state questions" but it was printed as "local questions". Belham was instructed to fill out a whole new ballot. "I think things are happening here that could mess up the whole race, " says Belham.
He's referring to that close primary last month in Pawtucket. You may remember incumbent Representative William San Bento defeated Carlos Tabon by just one mail–in vote. "I'm very concerned about my vote being counted or not counted, " adds Belham.
What's concerns Belham the most, that nearly 350 other misprinted ballots are still out there. Plus, all the new ballots. He's worried some people may try to vote twice, or could commit voter fraud. "Say I throw this ballot away in the trash and somebody picks it up and mails it in how does anybody know it wasn't me, " says Belham.
ABC 6 reached out to the Secretary of State. That's the office that runs the elections. They declined an on camera interview, but we received an email, saying voters have nothing to worry about. The email also says once the board of elections receives a voter's new ballot it will disregard the original. Belham isn't convinced. "Everybody makes mistakes but I'm concerned about this could hold up the whole race, " says Belham.