Barton Corner bridge construction underway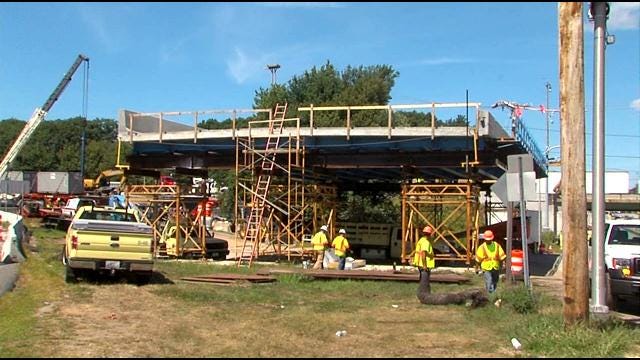 By: Alexandra Cowley
Rhode Island is racing to meet its goal of fully replacing the popular Barton Corner bridge in just 11 days. The bridge runs over the Warwick/West Warwick line. Tuesday night, part of the bridge will be torn down and you can watch it all happen from home
It's the first time Rhode Island has opted to tackle such a large construction project in such a short amount of time.
RIDOT's Rose Amaros says, "accelerated construction techniques are being used across the country in terms of doing this type of interstate operation within this period of time.'
Construction on the project began Monday and Tuesday night crews will begin tearing down the northbound part of the bridge. This means a handful of detours and road closures will follow.
"Traffic is flowing, businesses are open, we just are encouraging folks to be patient with us as we continue with this operation," asked Amaros.
Over the next 11 days, the new parts of bridge will be lifted and placed into position. A project that RIDOT is inviting you to watch. They're streaming live all the angles to view the construction in action.
"When we actually go to move one of the bridge halves into its final placement that's going to be within a 6 hr window. So it's an incredible feat and we have a talented team and partner in D' Ambra and we're on schedule to make it happen," said Amaros.
For all the information on detours and road closures click here: http://www.dot.ri.gov/news/barton_corner/index.php
(C) WLNE-TV 2014