Basketball coach arrested for child porn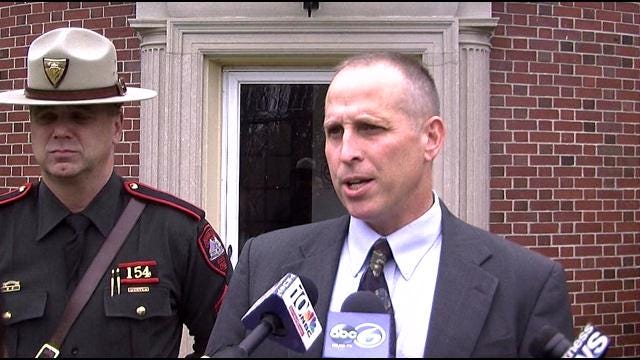 By Dana Griffin
PAWTUCKET, RI- The founder and director of a boys basketball team was arrested after a tip led police to a stash of child porn in his home.
So far, there's no evidence that the coach, 41–year–old Jason Elliott did anything inappropriate with his own players.
Elliott helped found and still coaches the Rhode Island Hawks, an AAU organization that teaches basketball to boys from all over New England and New York.
Players and parents are surprised of Elliott's arrest.
"Surprised ye, devastated. It's very devastating and I just hope the best for him," said Brandon Eckles.
Eckles, who wants to play ball in college, has known Elliott for about six years.
"Jay over the past two years has helped me come in contact with coaches and things like that and he's been a huge aspect of that part of my life," said Eckles.
People who live near Elliott in Pawtucket are also disturbed.
"You know, he's in a position of trust and now we're finding out that he can't be trusted. It's disturbing," said neighbor, Marybeth Oz.
That's the reaction from some neighbors after finding out 41–year-old Jason Elliott had been arrested for possession of child porn.
RI State Police Major, Todd Catlow said "The investigation leading to the arrest began when a clinical social worker who was treating Mr. Elliott became concerned about some of his actions in his statements and contacted the computer crimes unit."
Police would not say exactly what prompted the social worker's suspicions, but they did find two computers and several thumb drives containing child porn at his Blodgett Avenue apartment in Pawtucket.
Elliott has lived there for the past three months.
Police say he had roommates, but they're not involved.
For Elliott's own protection, state police are not releasing his photo.
"Well, that's the scary part, that he's a trusted coach. You know the kids are really, really vulnerable," said Oz.
Others don't like what they're hearing, but want the legal process to play out.
Neighbor, Paul Dion said, "I mean beyond the obvious disgust and distaste with what he's accused of doing, it wouldn't be fair at this point I don't think."
Elliott was arraigned Saturday but did not post bail. He remains in the ACI. He will be re–arraigned Monday.
©2013 ABC6/WLNE-TV. All Rights Reserved.