Bathroom explodes, man inside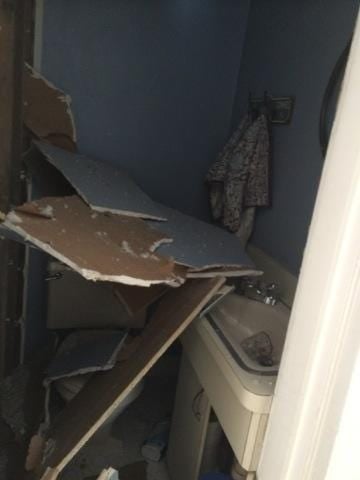 By Dana Griffin
@DanaGriffinABC6
PROVIDENCE, RI- Imagine being inside a bathroom, when suddenly an explosions causes the walls to cave in.
Well, it happened to Andrew Pessin's friend Jeffery– here visiting from New York. He was inside the Woodbury Street home for only ten minutes Sunday when he went to the first floor bathroom and heard a strange clicking noise.
He says a strong explosive force then threw him out the bathroom.
Jeffery Oppenheim said, "It happened in an instant like getting hit by a cannon."
Andrew Pessin owns the home. He said, "I was in the kitchen with my kids and immediately smelled the burning smell and we just picked them all up and ran out of the house."
Jeffery and his three boys age 9, 7 and 5 heard it and called 911 while running out the door. Everyone made is out safely.
"Oh it was horrible they were petrified screaming standing in the snow screaming, barefoot," said Pessin.
Since their boots were right by the door, dad ran back in, got their shoes and coats.
As for Andrew, he has a bruised knee but says he's just glad it wasn't worse.
"I'm just very grateful it was me in there and not one of the Pessin children who are little. They could have gotten killed," said Oppenheim.
©2015 ABC6/WLNE-TV. All Rights Reserved.