Bats Spoil Sold Out Star Wars Night At McCoy Stadium For PawSox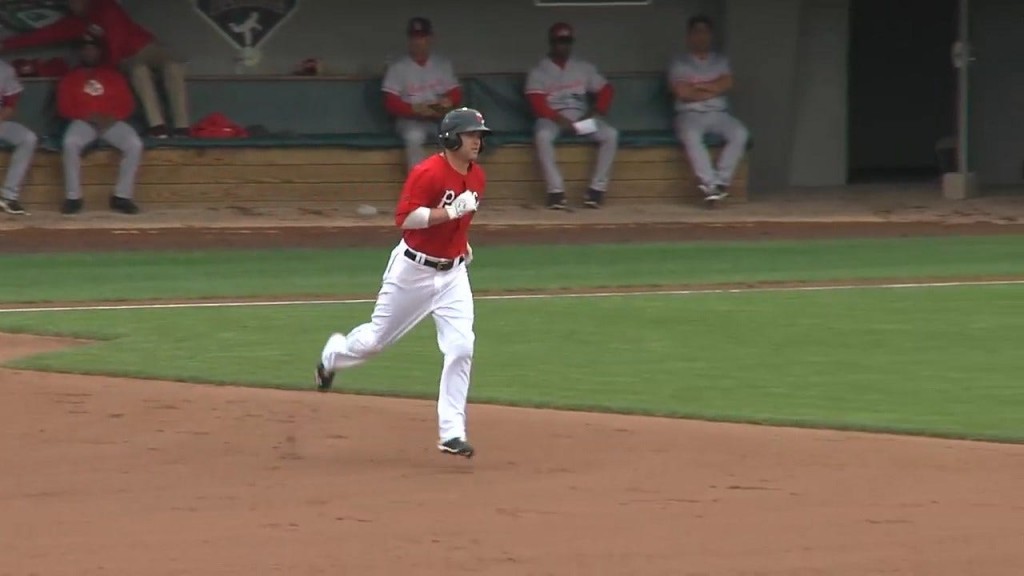 Pawtucket Red Sox Press Release
(Pawtucket, RI) – The Pawtucket Red Sox continued their solid pitching but a couple late runs pushed the Louisville Bats to a 3-1 victory in front of a sell-out crowd of 10,045 fans on Saturday evening at McCoy Stadium.
The allure of Star Wars Night and a post-game fireworks show brought the first sell-out crowd of the season to McCoy.
"[McCoy] had a buzz to it tonight," said manager Kevin Boles. "It was very nice to see the fans come out and we hope they do it again often because we love having the fans here."
Henry Owens allowed one run in 5.2 innings for the second time on the homestand. He struck out five and allowed six hits in his 105-pitch outing.
He did not walk a batter until two outs in the fifth inning, when he issued free passes to the final two batters he faced.
"Overall, we're starting to see some progress with his last three outings," said Boles. "I liked how he was able to go cross corner with his fastball into righthanded hitters and it looked like he was more aggressive attacking the zone."
Just like in his last start, Owens surrendered his only run via a solo home run.
In the first inning, Scott Schebler connected on the blast (5) that sailed into the Louisvlle bullpen.
Pawtucket (32-30) answered in the bottom of the second, when Bryce Brentz hit the second pitch of the frame over the wall in left center field for his first PawSox home run of the season.
Brentz's game-tying round-tripper was his first Triple-A home run since June 14, 2015. He did homer in his brief stint with Double-A Portland earlier in the season.
Bats starter Robert Stephenson (4-3) did not allow a run over the rest of his outing, inducing seven pop outs over his remaining four innings of work.
With two outs and a runner on first in the top of the sixth inning, Seth Mejias-Brean worked out a walk with a 10-pitch at-bat. Owens then issued a four-pitch walk to load the bases and reliever Anthony Varvaro (3-2) entered the game for Pawtucket.
Varvaro got Bryson Smith to ground into a force out at second base to keep the game tied at 1-1.
Varvaro has allowed none of his 15 inherited runners to score this season.
Louisville (32-30) took the lead in the seventh inning. Two walks and a Chris Marrero error loaded the bases with one out for Brandon Allen.
Allen tapped a ball by Varvaro on the third-base side of the mound. By the time the third baseman Jantzen Witte charged the ball, his only play was at first base and the Bats took a 2-1 lead on the groundout.
The PawSox threatened in the eighth as Ryan LaMarre led off the frame with a bloop double that second baseman Jose Peraza lost in the twilight.
The hit extended LaMarre's hitting streak to 12 games, which tied his 12-game streak from earlier this season for the longest such streak by a Pawtucket player this season.
Justin Maxwell then walked to place two runners on base with no outs. But Chris Marrero popped out and Brentz grounded into an inning-ending double play.
Louisville used a pair of singles and a sacrifice fly to tack on an insurance run in the top of the ninth before the PawSox strung together another threat in the bottom half of the frame.
Witte walked and Henry Ramos doubled to put two runners in scoring position with nobody out.
But closer Jumbo Diaz struck out Deven Marrero, got Mike Miller to pop out and induced a game-ending groundout from Dan Butler.
The loss dropped Pawtucket to 8-3 in its last 11 games with all three defeats coming by one run.
The PawSox wrap up their seven-game homestand with tomorrow afternoon's rubber match against the Bats at 1:05 p.m. Radio coverage on WHJJ (920 AM) and throughout the PawSox radio network begins at 12:35 p.m.
Good seats for tomorrow's game are still available at the McCoy Stadium box office, by calling (401) 724-7300 or by visiting pawsox.com.