Bats Sweep Away PawSox In Tuesday Night Twin Bill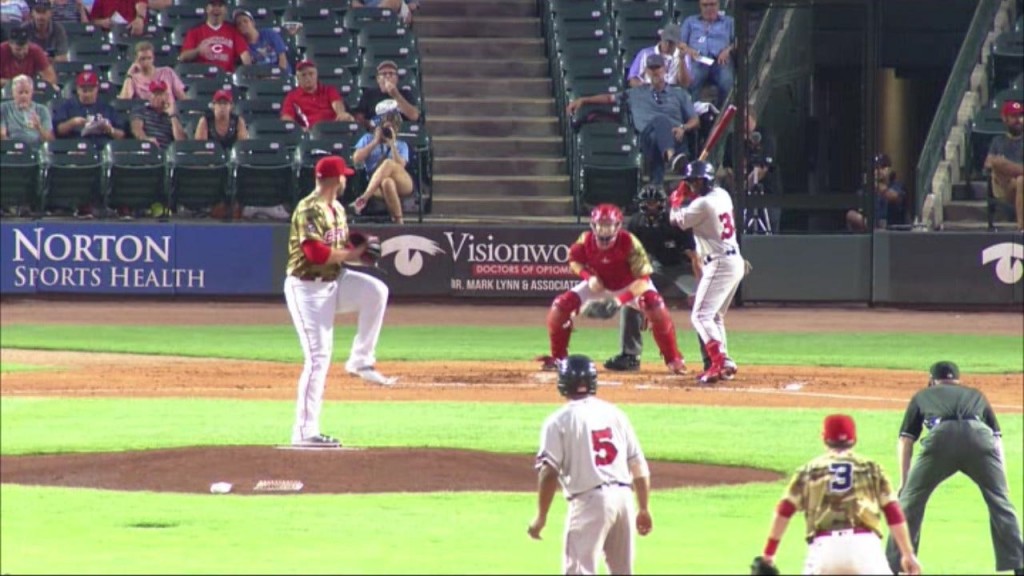 Pawtucket Red Sox Press Release
LOUISVILLE, Ky. — Despite tallying 16 total hits, the Pawtucket Red Sox dropped both games of the doubleheader to the Louisville Bats on Tuesday night at Louisville Slugger Field to begin the four-game series.
In the first game, the PawSox (59-63) collected 10 hits but stranded eight and ran into a pair of outs on the basepaths en route to the 3-1 loss.
In the nightcap, Pawtucket — serving as the home team due to a May 25th rainout at McCoy Stadium — ceded three runs in the fourth and two runs in the fifth to the Bats (48-73) in a 5-1 loss.
Game One
Right fielder Rusney Castillo and (2-for-4) and first baseman Sam Travis (2-for-3) each had multiple singles.
PawSox starter Justin Haley (L, 2-1) logged his fourth quality start in as many outings since his return to the Red Sox organization. The right-hander allowed three runs in six frames on nine hits and a pair of walks.
Louisville starter Tyler Mahle (W, 3-3) scattered eight hits across his five innings of one-run ball, while reliever Alejandro Chacin (S, 1) earned the two-inning save.
Pawtucket broke the scoring seal in the top of the first when left fielder Brian Bogusevic doubled to left field and promptly scored on an RBI single from Castillo.
Louisville tied the game, 1-1, in the home half of the first when No. 3 hitter Brandon Dixon tagged an RBI triple off the right-center wall to score second baseman Alex Blandino. The Bats then climbed ahead, 2-1, on an RBI groundout from rehabbing designated hitter Scott Schebler.
The Bats stretched their lead to 3-1 in the bottom of the second when shortstop Zach Vincej tripled and scored on an RBI single from catcher Adrian Nieto.
Game Two
Pawtucket starter Marcus Walden (L, 10-5) yielded three runs in four innings, before rehabbing Red Sox reliever Carson Smith (0.1 IP, 3 H, 2 R, 0 BB, 0 K) replaced him for the fifth. In his third rehab outing with Pawtucket, Smith allowed a leadoff double on a ball in which left fielder Bryce Brentz nearly made a diving catch in the gap — but the ball popped out of his mitt. The next hitter chopped an RBI single up the middle. Louisville second baseman Hernan Iribarren then pulled a third straight hit into right field before Smith allowed an RBI 6-4 fielder's choice to end his evening. The right-hander, who is recovering from Tommy John surgery, threw 14 of his 17 pitches for strikes.
Bats starter Rookie Davis (W, 2-2) fired a seven-inning complete game, struck out six and only gave up one run on six hits.
The PawSox constructed a 1-0 lead in the bottom of the third inning thanks to three consecutive singles, the third of which — from Castillo — plated second baseman Heiker Meneses from second.
With a pair of singles, Louisville placed runners at first and second in the top of the fourth, and the Bats tied the game, 1-1, on two wild pitches from Walden. Left fielder Adam Brett Walker then ripped an RBI double down the left-field line to push the Bats in front. Walker later scored an additional run, making it 3-1, on a single and error.
Against Smith in the fifth, Louisville leadoff man Darnell Sweeney bounced an RBI single up the middle to score shortstop Zach Vincej and widen the gap to 4-1. Two batters later, Dixon rolled into a 6-4 fielder's choice to net another run.
The series with Louisville continues Wednesday at 7:05 p.m. PawSox left-hander Brian Johnson (3-2, 2.74) is scheduled to oppose Bats lefty Cody Reed (4-8, 3.46). Radio coverage on WHJJ (920 AM) and throughout the PawSox Radio Network begins with the PawSox Pre-Game Show at 6:35 p.m.
The PawSox return home for the final homestand of the season August 21-27 (Monday-Sunday). Good seats are available, and fans can visit the McCoy Stadium box office, which is open Monday-Friday from 10 a.m. through 5 p.m., and during all home games. Fans can also call (401) 724-7300 or log on to PawSox.com for tickets.