Battle over ferry service to Block island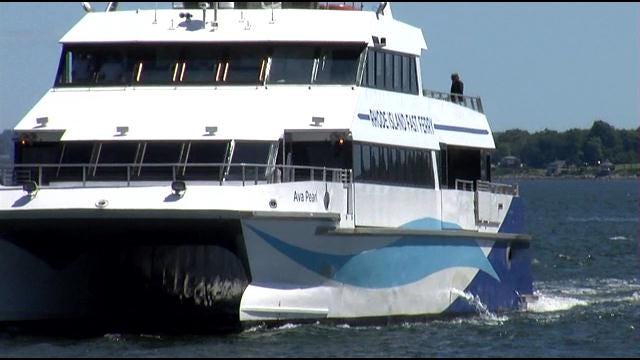 by Mark Curtis, ABC6 Chief Political Reporter
The Block Island Ferry from Point Judith, may be about to get a rival.
The Rhode Island Fast Ferry company – which operates from Quonset point to Martha's Vineyard – now wants to make trips to Block Island, too.
The current Block Island Ferry company is saying no way.
"We'd object to any additional ferry service running seasonally to Block Island based on the fact that it would have a negative impact on our revenues in July and August," said Megan Moran, Sales Manager for Block Island Ferry.
Block Island Ferry managers say summer income helps subsidize year–round–service to Block Island.
But ferry operators at Quonset say trying to prevent their expansion, is un–American.
"Competition is good for everyone. And the consumer can make that decision of where they want to go. It makes the businesses stronger. It makes them compete more. It benefits the consumer," said Rhode Island Fast ferry owner Charlie Donadio, Jr., in Quonset.
ABC6 Reporter Mark Curtis said, "This dispute has dived some in the business community here. Both ferry services are members of the Narragansett Chamber of Commerce."
But the chamber board took sides endorsing the Block Island Ferry.
Some businesses near that ferry are worried about losing customers:
"We depend on the foot traffic for people that are going on daily trips and vacations to Block Island," said Valarie Westnedge who operates the nearby "Softouch" store.
But some Block Island customers tell us, they'd prefer taking a ferry from Quonset, including Lauren Ferreira from Tiverton.
"It would just be a lot more convenient for us. It would give a lot of the kids in town, more to do. I think it would be really beneficial to everyone," Ferreira said.
The state agency that regulates ferries – the Public Utilities Commission – meets on August 21st.