Baynes Scores Career-High 26 Points, Celtics Win Regular Season Finale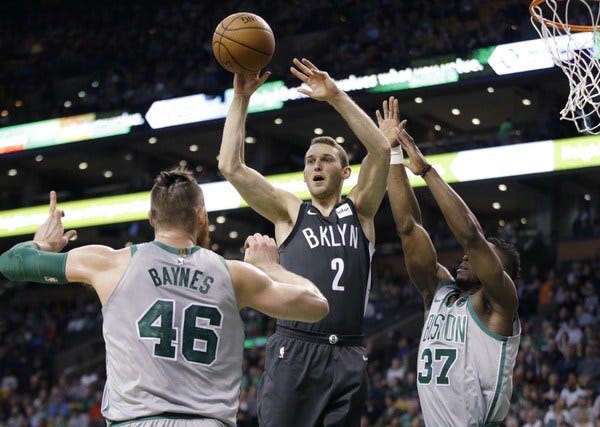 By KEN POWTAK
Associated Press
BOSTON (AP) – Aron Baynes led a short-handed Boston lineup with a career-best 26 points and 14 rebounds, carrying the Celtics to a 110-97 victory over the Brooklyn Nets on Wednesday night in the regular season finale.
Jonathan Gibson scored 18 points, Guerschon Yabusele had 16 and Shane Larkin added 12 points, 10 assists and seven rebounds for the Celtics (55-27).
Nik Stauskas scored 18 points for the Nets (28-54) who had their three-game winning streak snapped. Allen Crabbe had 16 points.
The Celtics rested Al Horford, Jaylen Brown, Jayson Tatum, Terry Rozier and Marcus Morris.
Baynes was the only regular in the starting lineup for the Celtics and he helped them take charge by scoring six points during a 9-0 run midway into the third quarter that pushed them ahead 66-47.
The 6-foot-10 Baynes had a double-double (18 points, 10 rebounds) at halftime.
Boston led 83-70 entering the final quarter.
Entering the playoffs as the No. 2 seed in the Eastern Conference, the Celtics hardly look like the team that was projected to go deep into the postseason.
Star guard Kyrie Irving was lost for the remainder of the season after left knee surgery last weekend and key reserve guard Marcus Smart is likely sidelined for most, if not all, of the opening round. That comes after Boston lost prize offseason free agent acquisition Gordon Hayward to a gruesome ankle injury on opening night.
The Nets, meanwhile, headed into their third straight offseason without a playoff berth.
TIP-INS
NETS: The loss was their ninth straight against the Celtics and was their 11th consecutive time they've ended a regular season by losing.
Celtics: Coach Brad Stevens said Rozier injured his left pinkie finger against the Wizards on Tuesday night, but could have played. … Stevens said of the lineup filled with mostly reserves and former G-League players: "This is a big night for some of those guys. I think we all owe it, guys that aren't playing, coaches, to be really locked in and to bring everything we've got. This is their opportunity."
RESPECT
Nets coach Kenny Atkinson feels like the Celtics' defense will be tough for any playoff opponent.
"No disrespect to the other teams, this is the best defensive team in the league," he said before the game. "I don't care who they are throwing out there, they are very good defensively."
AP-WF-04-12-18 0218GMT