Beer Braised Bratwurst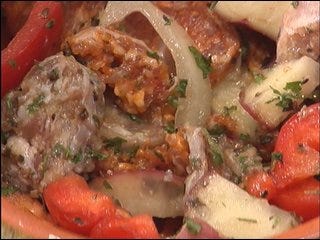 6 good Bratwurst
1 Sweet Onion, sliced
1 TBSP butter
1 TBSP olice oil.
1 16oz can of Narragansett Lager Beer
6 Torpedo Rolls toased
Dijon Mustard
Directions:
In a 3 quart sauce pan saute onions in butter and olive oil
Pour in the beer
Simmer on low-to-medium heat, uncovered for 45 minute.
Remove sausages and brown on an indoor or outdoor grill
Strain onion from beer mixture, savig the onions and disarding the beer.
Serve Brats on toasted rolls with onions and dijon mustard!