Behind the scenes with Miss Universe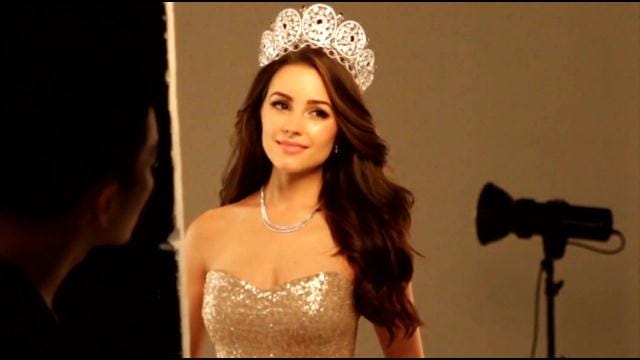 By Karen Meyers
Olivia Culpo is now a regular on the red carpet. She says "the lights flashing in your eyes are really overwhelming." She mingles with the beautiful and famous, yet she's the one, celebrities want to be seen with. "That's what happened with Richard Gere. He said, 'Come on. We need to get a picture together." It's exciting. It's really cool. I never thought I'd be doing stuff like that. No way. "
Her life changed when USA was announced the winner at the Miss Universe pageant. Olivia still can't believe it. "I do definitely have to pinch myself sometimes and just take a step back and say I'm so lucky." She is the first Rhode Islander in the pageant's history to win.
One perk of being Miss Universe, a luxury apartment in the heart of Manhattan. She shares it with Miss USA but because she's Miss Universe, she gets the biggest bedroom. Olivia didn't want to show us that bedroom during a tour of her West 57th Street digs. She says it's a mess. Her favorite part– the breathtaking views, especially of Central Park.
You'd never know it but Olivia is fresh off a red eye from LA. No sleep after a whirlwind weekend of appearances. She looks camera ready though after just 15 minutes of preps.And she does her own hair and make-up, even for red carpet events, though stylists do help her dazzle in dresses. Gowns are brought to her apartment. Each of her looks is carefully crafted. But pageant owner Donald Trump tells ABC6, Miss Universe is about more than beauty. He says Olivia's got a hard job. "They go and visit heads of state. They're always on the move. She's out of the country a lot."
Olivia's first trip overseas was to Indonesia. And she forgot her crown… the diamond and ruby tiara worth 260-thousand dollars. She says her colleagues didn't believe her, "I really left the crown. I don't have the crown." It's an unusual slip-up. She's well disciplined: regularly working out and sticking to a strict diet. I asked Olivia if she's ever tempted to forgo the egg whites and steamed vegetables for junk food. She hesitated for a split second and then "Um. Nope. I haven't had McDonald's definitely not this year,but when I go home, I always treat myself to food because Rhode Island has the best food.
Olivia's days are filled with charity work, night time appearances, and photo shoots. ABC6 was on location at the Rhode Island State House with her for a cover shoot for the magazine 'Southern New England Living'
Donald Trump says Olivia has a bright future. "I know she wants to be an actress and I've told people in the movie business, I would cast her in two minutes. I think she's going to go into really, really big things and I hope she remembers the name Donald Trump.
No matter how much success Olivia achieves , you get the feeling there will always be a little bit of Rhode Island right there with her.