Beloved salvation army dog passes away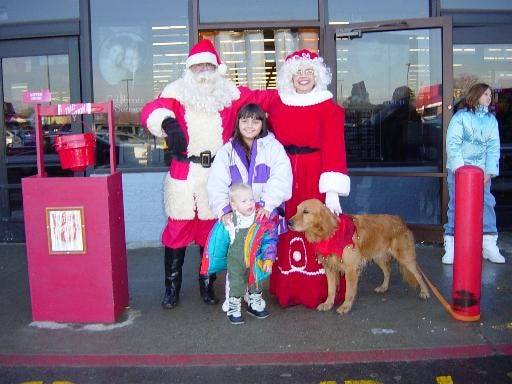 By: Dee DeQuattro
Twitter: @deedequattro
Email: ddequattro@abc6.com
A dog that had been ringing the bells at the Salvation Army for over a decade passed away on Monday.
El Dorado, a golden retriever, owned by Alan and Joy Freitas has been helping his owner ring the bells for donations at the Salvation Army every December since 1999.
The Freitas's would dress up as Mr. and Mrs. Claus, with a special addition Santa Paws.
"Dorado's last Bell Ringing was this past Dec. 7th. Where he once would be energetically approaching people he mostly sat or laid there quietly, collecting his petting and posing for pictures," said Alan Frietas.
El Dorado died on Monday at 15-year-old. He was known to members of the New Bedford rotary club and visitors at the Salvation Army. Many people would go to the Salvation Army just to visit hi.
Dorado was recently recognized at the annual Salvation Army Volunteer Appreciation Luncheon.
(C) WLNE-TV 2014