Bentil Injures Ankle, Dunn and Fazekas Sick as Friars Gut out Win over BC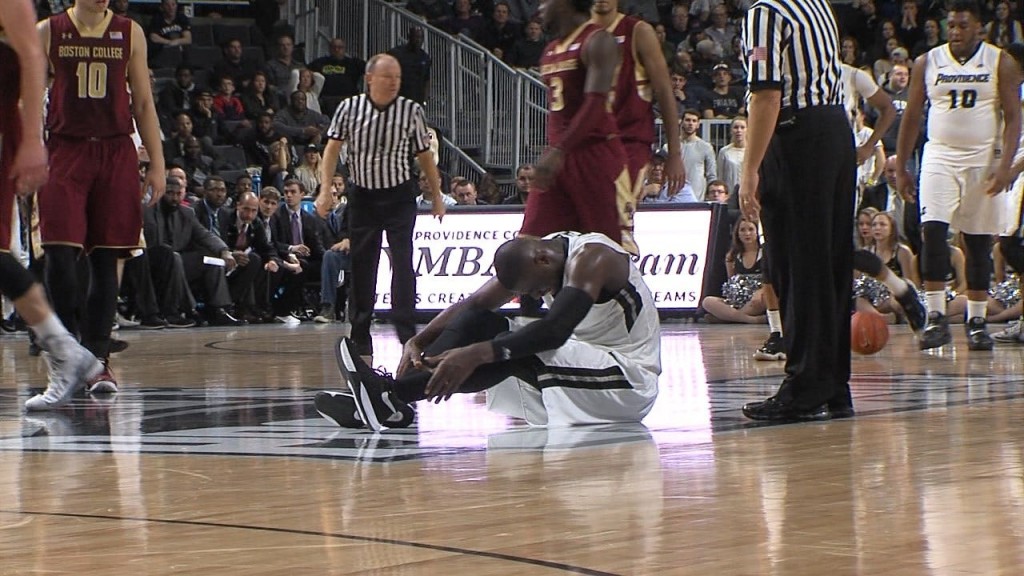 PROVIDENCE, R.I. — (AP) Ahead by a bunch early, No. 15 Providence saw two top players leave the court late in the first half and not return.
Even with Kris Dunn and Ben Bentil out, the Friars had enough Wednesday night for a 66-51 win over Boston College, which has endured more than its share of recent health problems.
"I feel bad for them, but I've seen that a lot myself," Boston College coach Jim Christian said.
The Eagles played their first game since several team members fell ill to a restaurant-related virus.
The Boston Public Health Commission said lab testing confirmed the presence of a gastrointestinal illness at a Chipotle restaurant near the BC campus. More than 120 students were affected.
Christian said the Eagles did their best to prepare.
"It was hard to practice because a lot of them hadn't eaten or had trouble holding food down," he said. "They started to feel better (Monday night) after having a lot of fluids."
The Eagles had food from that Chipotle location waiting for them following a recent practice.
"Kids each lunch. They eat everywhere," Christian said. "Everyone eats different things. I've eaten there."
Christian said BC was still able to go through its normal gameday routine in advance of facing Providence. All of the players who felt ill suited up.
"We were really careful of hydration levels. That was really my main concern … having the guys work with the doctors to make sure they could play," Christian said.
The Friars (9-1) took an 18-4 lead and stayed ahead. Rodney Bullock finished with 17 points.
"Two guys went out and my number was called a few times and I was able to make some shots," said Bullock, who had seven of Providence's 10 field goals in the second half.
Boston College (3-6) closed to 43-29 with 11:15 left. Eli Carter scored 15 points.
Providence led 37-23 at halftime. But the Friars ran into trouble just before the break when Dunn (illness) and Bentil (ankle) left the floor within 29 seconds of one another.
Dunn left the game with 2:17 left in the first half. The talented junior point guard sat on the bench for a brief stretch. He then went to the locker room, though his condition did not improve.
"It was the triage center. Kris was white and Ben was sore," coach Ed Cooley said. "It was survival mode where we implored `next man up.' Guys want opportunities and they got it."
Bentil scored 12 of Providence's first 18 points on his way to finishing with 16 points and eight rebounds in 16 minutes.
"That was more of a culture win than a team win," said Cooley, who was an assistant at Boston College from 1997-06. "It could be our best win of the year. Everyone is going to look at the Arizona win or beating Illinois or winning at the University of Rhode Island. This was an incredible win for us."
The Eagles trailed by nine when the Friars' Jalen Lindsey hit a 3-pointer with 2:52 remaining. Lindsey had missed his first five shots. He ended up playing 39 minutes and scoring eight points.
"In the past we would have folded and given in," Cooley said. "Guys would have felt sorry for themselves. Today was about our culture and our grit."
TIP-INS
Boston College: A graduate student, Carter returned to action after missing Sunday's game against UMass Lowell because of an ankle injury.
Providence: The Friars have now met the Eagles 10 times since Boston College left for the ACC in 2005. The former Big East rivals have played 110 times overall with Providence holding a 61-49 advantage.
UP NEXT
Boston College hosts Delaware on Sunday.
Providence hosts Bryant on Saturday.