Biden rallies Stop & Shop workers in Boston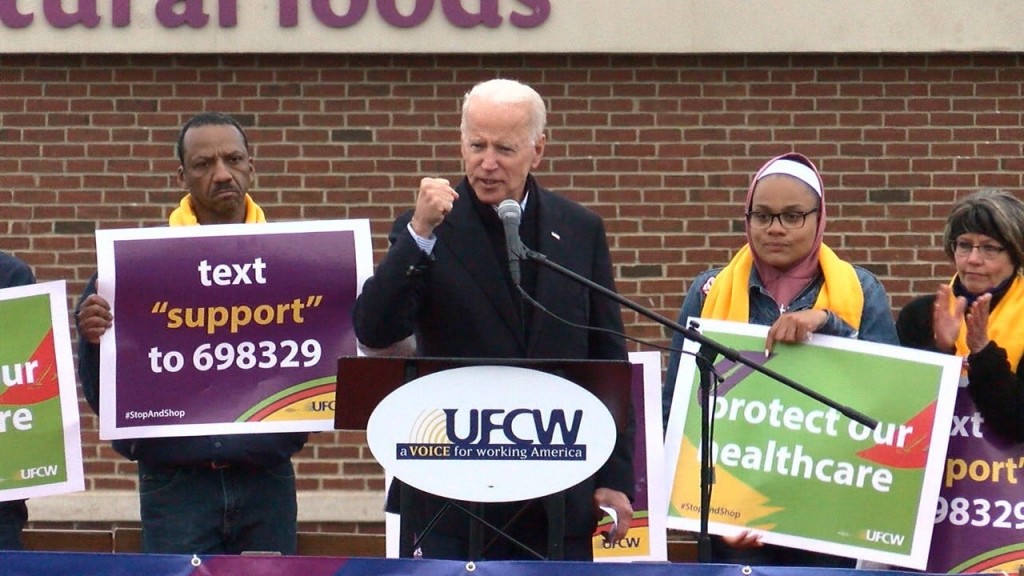 By Jordan Mazza
BOSTON, MA (WLNE) — Former Vice President Joe Biden headlined a massive rally in Boston's Dorchester neighborhood Thursday for Stop & Shop workers on strike.
It drew workers from throughout New England, all fighting proposed cuts to pay, benefits, and pensions.
"This is morally wrong, what's going on around this country," the former vice president said. "And I've had enough of it, I'm sick of it, and so are you!"
Biden was joined by other elected officials, like US Senator from Massachusetts Ed Markey, Boston Mayor Marty Walsh, and Massachusetts Treasurer Deborah Goldberg – whose grandparents were the original owners of Stop & Shop.
"This breaks my heart," Goldberg said of the company's proposed cuts.
Speakers were united in their concern that the middle class is eroding, forcing people to work more than one job.
"We will take back this country!" Biden said. "Don't give up, keep it going. And one job should be enough."
Biden's speech at the Boston rally was intended to energize Stop & Shop employees across New England, as their strike enters a second week.
As negotiations continue, the company issued a statement saying, "There is nothing we want more than having our associates back in the stores, taking care of customers and our communities. we have offered fair and responsible contracts and remain in active negotiations to reach new agreements as quickly as possible that keep our associates among the highest paid grocery retail workers in New England, while also providing excellent health care and increased contributions to a defined benefit pension plan."
But some employees dispute the company's claim.
"In some areas it is less than what we are used to having," said Marcel Desorcie, an employee who works at the Dorchester store where the rally was held. "So that's a little bit of corporate spin."
Some saying the rally is giving them hope as they continue the fight.
"I have three daughters that I have to take care of," said Michelle Waite of Providence, an employee who spoke at the rally. "This is a struggle. I don't want to be out here anymore. I work six days a week. And all I want to do is get back to work."
©WLNE-TV/ABC6 2019