Big Papi Wins Second Hank Aaron Award as Outstanding Offensive Performer in American League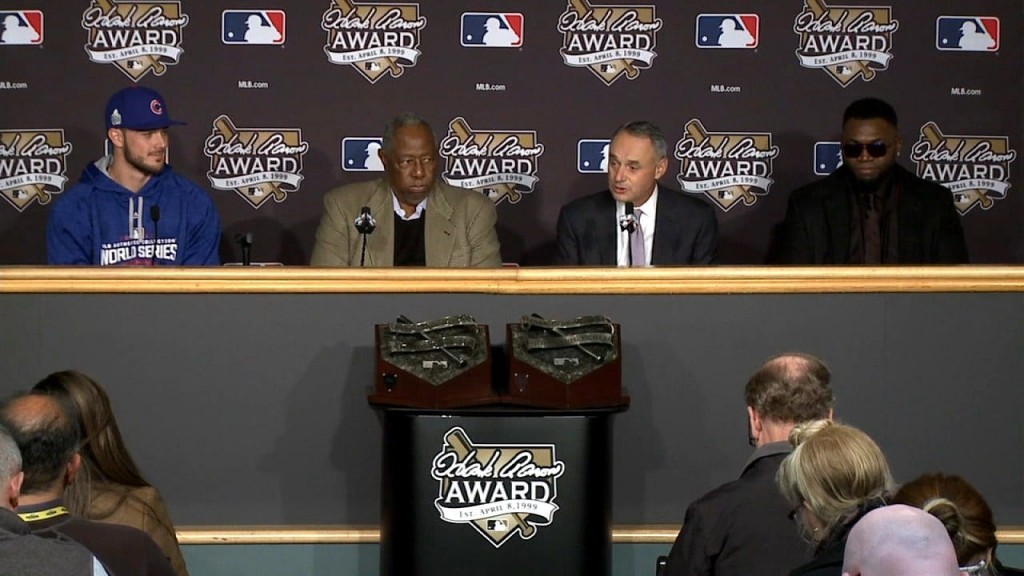 MLB news release…
David Ortiz of the Boston Red Sox and Kris Bryant of the National League Champion Chicago Cubs have been selected as the American League and National League winners of the 2016 Hank Aaron Awards, Major League Baseball announced today.
Established in 1999 to honor the 25th anniversary of Aaron breaking Babe Ruth's all-time home run record, the Hank Aaron Awards are officially sanctioned by MLB and recognize the most outstanding offensive performers in each League.
Fans voted for the recipients on MLB.com and Twitter, and for the seventh straight year, a special panel of Hall of Fame players led by Hank Aaron joined fans in voting for the Awards.
The Hall of Fame panel includes some of the greatest offensive players of all-time, such as Roberto Alomar, Johnny Bench, Craig Biggio, Ken Griffey Jr., Eddie Murray and Robin Yount.
These Hall of Famers – who combined for 17,010 hits, 8,844 RBI and 2,275 home runs – were all personally selected by Aaron to lend their expertise to select the best offensive performer in each League.
"I congratulate David Ortiz and Kris Bryant on earning the 2016 Hank Aaron Awards," Baseball Commissioner Robert D. Manfred, Jr. said. "David created an extraordinary legacy with the Red Sox.
Fans will never forget his consistent excellence at the plate and his performances on the game's greatest stages. Kris followed up an award-winning rookie season by helping lead the Cubs to their best regular season in more than a century. Both David and Kris are deserving of an honor named for one of the greatest players and individuals that our game has ever known."
"It is an honor that the awards which distinguish the top offensive performers in baseball have my name on it," Aaron said. "I want to congratulate Kris and David on their terrific seasons and extend my thanks to the Hall of Famers and fans who once again helped select the winners."
This marks the second time that Ortiz has been the American League winner of the Hank Aaron Award (previous: 2005). In the final season of his 20-year Major League career, Ortiz led all players with a .620 slugging percentage, a 1.021 OPS and 48 doubles. The Dominican Republic native batted .315 with 38 home runs, 127 RBI (T-1st, AL), 80 walks and a .401 on-base percentage.
His 38 homers – which included 16 of the go-ahead variety – and 127 RBI were his best totals since 2006. According to the Elias Sports Bureau, Ortiz established single-season records for players over the age of 40 in home runs, RBI, doubles and extra-base
hits. The 10-time AL All-Star played in all 76 of Boston's Postseason games since 2003, the most in franchise history. Ortiz, 40, retired as the Club's all-time Postseason leader in homers (17), doubles (19), extra-base hits (38), hits (80), runs (51), RBI (57) and walks (59).
The three-time World Series Champion was named MVP of the 2004 ALCS and the 2013 Fall Classic. He was also the 2011 recipient of MLB's Roberto Clemente Award for outstanding community service.
In his second Major League season, Bryant established himself as one of the game's top young sluggers. The versatile third baseman/outfielder, a key cog in the Cubs' best regular season in more than a century, batted .292 with 39 home runs, 102 RBI, a National League-high 121 runs scored, eight stolen bases, a .385 OBP and .554 slugging.
Bryant's 39 homers this season were third-most in the NL and the most by a Cub since Derrek Lee's 46 in 2005. In the sophomore season for the 2015 NL Rookie of the Year, the 24-year-old Las Vegas native became the fourth Cub in franchise history to amass at least 120 runs, 35 doubles, 39 homers and 100 RBI in a single season, and he was just the second to do so in the last 85 years.
The University of San Diego product joined Hall of Famers Rogers Hornsby (1929) and Hack Wilson (1930) as well as Lee (2005) on the list. Bryant is just the fourth Cub of the last 100 years to reach 100 RBI in his age 24-or-younger season, joining Andy Pafko in 1945 and Hall of Famers Ernie Banks in 1955 and Ron Santo in 1964.
Past winners of the Aaron Awards include Josh Donaldson and Bryce Harper (2015); Giancarlo Stanton and Mike Trout (2014); Miguel Cabrera and Paul Goldschmidt (2013); Cabrera and Buster Posey (2012); Jose Bautista and Matt Kemp (2011); Bautista and Joey Votto (2010); Derek Jeter and Albert Pujols (2009); Aramis Ramirez and Kevin Youkilis (2008); Alex Rodriguez and Prince Fielder (2007); Jeter and Ryan Howard (2006); Ortiz and Andruw Jones (2005); Manny Ramirez and Barry Bonds (2004); Rodriguez and Pujols (2003); Rodriguez and Bonds (2001-02); Carlos Delgado and Todd Helton (2000); and Ramirez and Sammy Sosa (1999).