Bills to start Undrafted Rookie QB vs. Pats in Week 1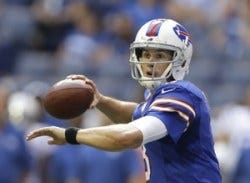 The Associated Press
ORCHARD PARK, N.Y. (AP) _ Buffalo Bills cornerback Stephon Gilmore will miss six to eight weeks with a broken left wrist.
Coach Doug Marrone provided the update Monday, two days after Gilmore was hurt in a 30-7 preseason loss to Washington.
As for quarterback, Marrone added he's planning to have third-stringer Jeff Tuel start in the Bills' opener against New England on Sept. 8.
Veteran Kevin Kolb is out indefinitely after sustaining a concussion against Washington. And rookie EJ Manuel is not expected to be ready after hurting his left knee.