Biology lab chemical sickens Westerly High students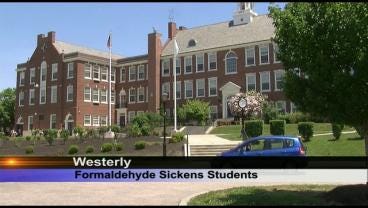 A chemical inside a biology lab is likely to blame for a hazmat scare that sickened 17 people at Westerly High School today.
The school was evacuated after students started going to the school nurse for nausea and lightheadedness this morning.
Firefighters first thought the problem might be carbon monoxide, but they discovered it was a chemical similar to foremaldehyde.
Air quality tests found no danger but the science wing was closed for the rest of the day as a precaution.
All of the students that got sick are expected to be okay.