Bishop Feehan students rescue couple from car crash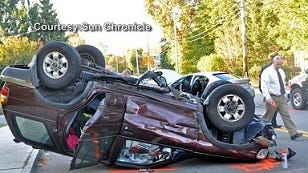 By: Alexandra Cowley
Four cross country runners from Bishop Feehan are being called heroes after pulling two people from a serious car crash. The runners even had a close call themselves. You've heard of the saying, being at the right place at the right time. Well, that was the case for the four teens. They say they're lucky to be OK too.
"The car ended up hitting something on the sidewalk, right where we were, so it was a close call," explained Sean Legg.
The teens were on their cool down run after a track meet. It's 2 mile loop that takes The Bishop Feehan runners off the track and onto the streets of Attleboro. That's how they ended up on Dewey Avenue.
"All of a sudden I hear a really loud screeching noise," said Legg.
A rear–end collision during rush hour Tuesday sent a car into oncoming traffic, where it hit an SUV.
"The maroon car just started flipping and rolling over," said Legg.
"We see an SUV flipping over towards us," said runner Mike Wojtyna.
The SUV hit some trash cans, where it came to a stop, right in front of the teens.
"We saw the people in the car and they had the most importance, so we tried to get them out of the car whatever way we could,"said Spencer Marcott.
They first pulled a woman from the passenger side of the vehicle. But getting to the driver wasn't as easy, the door was jammed.
"We were thinking about breaking the glass, but then we were able to get him out through the passenger side," described Legg.
The couple is expected to be OK. Which is welcome news to the four track runners, whose routine cool-down run, turned them into local heroes.
"It's mostly just teachers saying good job Mike, you did what you were supposed to do, and were proud of you," said Wojtyna.
"We know we did what we were supposed to do and we helped those people out as much as we could," said Marcott.
Police are still investigating the crash that involved three vehicles. The couple has not been identified. They were transported to Rhode Island hospital with non–life threatening injuries.
(C) WLNE-TV 2013