Bishop Tobin blesses pilgrims heading to see Pope Francis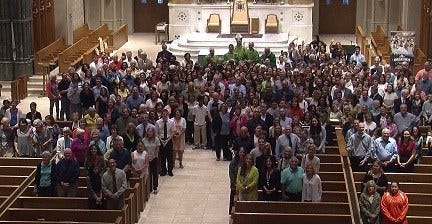 By Mike LaCrosse
A special Mass was held for the more than 400 Catholics who will be making the pilgrimage to Philadelphia to see Pope Francis.
Bishop Tobin presided over the Mass at the Cathedral of Saints Peter and Paul Sunday afternoon and offered a blessing and guidance to the people making the trip.
Pope Francis will attend the World Meetings of Families over two days in downtown Philadelphia. Before that he's making stops in Washington D.C. and New York City.
(C) WLNE-TV 2015