Bisons Avoid Sweep, Shut Down PawSox in Finale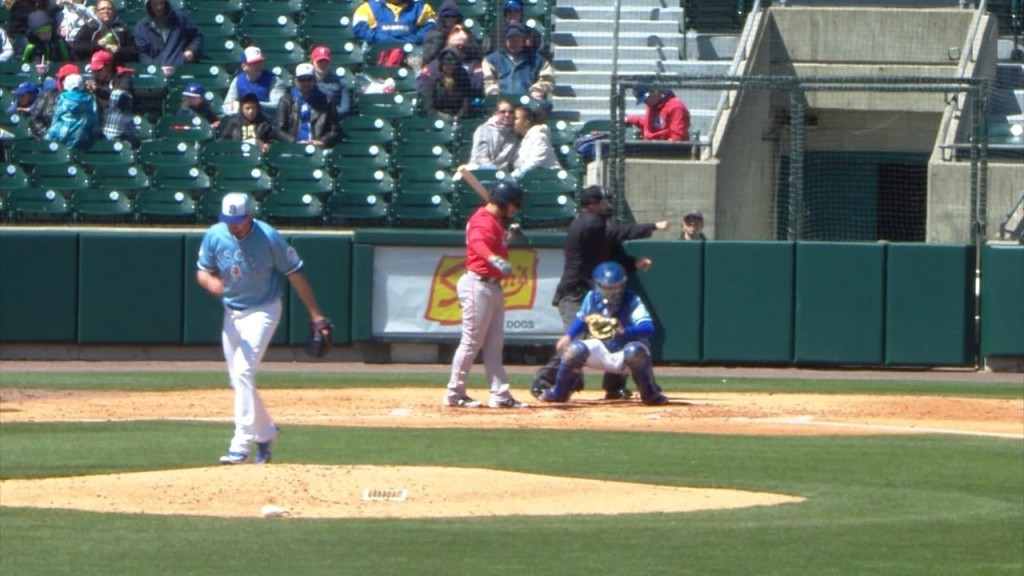 With their sights set on a series sweep for a second consecutive weekend, the Pawtucket Red Sox were limited to just two hits in a 2-0 shutout loss to the Buffalo Bisons on Sunday afternoon at Coca-Cola Field.
The Bisons (6-8) salvaged the series finale and held Pawtucket (11-9) to just a bloop single and gentle infield single – matching a season-low, two-hit output. Buffalo's pitching overshadowed that of the PawSox, who received a solid start from William Cuevas and lights-out relief from Brandon Workman and Josh Smith.
In his fourth start of the season, Cuevas (L, 1-1) struck out six over his first three-plus innings and, in total, dealt 5.1 sturdy stanzas of two-run work. He yielded to Workman in the home half of the sixth inning with the bases loaded, and the big right-hander induced a 5-4-3 double play on his second pitch to keep the PawSox within striking distance. Workman allowed just an infield single in 1.2 innings, and left-hander Josh Smith cruised through a 1-2-3 eighth inning. The 28-year old Smith, who came over from Pittsburgh in the Triple-A phase of the Rule 5 Draft in December 2016, has shined in his five appearances so far, giving up just one run in 11.1 innings with 15 strikeouts and only two walks.
Buffalo starter Deck McGuire (W, 2-1) impressed over five-plus shutout innings with nine strikeouts. McGuire struck out seven in the first three innings, ceding just a harmless bloop single and a walk, and cruised through five one-hit frames before encountering trouble in the sixth. After Pawtucket right fielder Aneury Tavarez dumped a single into shallow right-center to lead off the second inning, the PawSox didn't record another knock until center fielder Rusney Castillo poked an infield single just past the mound in the sixth inning – their second and final hit.
But Bisons reliever Luis Santos escaped peril with a strikeout and a 6-4-3 double play in the sixth and ended up spinning three shutout innings with a trio of strikeouts. Veteran righty reliever Al Alburquerque (S, 1) generated a helpful double-play in the ninth to secure the victory.
Pawtucket hitters did work five walks at the plate but only had a runner past first base twice.
After Cuevas sailed through a 1-2-3 bottom of the first inning, Buffalo went ahead 1-0 in the bottom of the second when designated hitter (and noted PawSox villain) Danny Jansen led off with a solo shot to left. Only three of Jansen's 13 hits this season have come against teams not based in the Ocean State.
In the bottom of the fifth, Buffalo placed runners at the corners with one out, and leadoff man and right fielder Dalton Pompey served a sacrifice fly into shallow left field to plate shortstop Gift Ngoepe and make it 2-0.
The PawSox placed the leadoff man aboard in the top of the ninth inning to bring the tying run to the plate, but a hard-hit ground ball up the middle from Tavarez turned into a hard-luck 6-3 double play to end the ballgame.
Following the series in Buffalo, the PawSox now return home to McCoy Stadium to open a three-game set with the Rochester Red Wings (Minnesota Twins), beginning Monday at 6:15 p.m. PawSox right-hander Chandler Shepherd (0-1, 6.75) is scheduled to oppose Red Wings southpaw Dietrich Enns (0-3, 5.79). Radio coverage on WHJJ (920 AM and 104.7 FM) and throughout the PawSox Radio Network begins with the pre-game show at 5:45 p.m.