BLACK AND BLUE SOX: Pedroia, Martinez to Miss Time with Breaks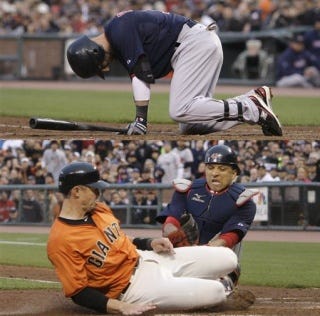 BOSTON (AP)—Red Sox second baseman Dustin Pedroia is expected to miss six weeks with his broken left foot, but the team says pitcher Clay Buchholz might be able to avoid a trip to the disabled list.
Buchholz has a strained left hamstring. He had an MRI on Monday on an injury he sustained while running the bases Saturday in San Francisco. He is not scheduled to start this week, when the team has two off days.
Pedroia also was examined, and doctors confirmed he has a broken bone in his left foot. He was placed on the 15-day disabled list Saturday, one day after fouling a ball off his foot.
All-Star catcher Victor Martinez, injured Sunday, has a broken bone in the tip of his left thumb. He isn't expected to need surgery, but it's unclear how long he might be sidelined.
Also on Monday, the Red Sox added utilityman Eric Patterson to the roster and designated left-hander Fabio Castro for assignment. Also, righty Boof Bonser cleared waivers and has chosen to become a free agent.
(Copyright 2010 by The Associated Press. All Rights Reserved.)