Black Bear back in North Kingstown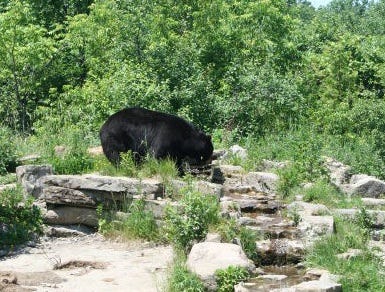 Dee DeQuattro
North Kingstown's famous black bear has returned but this time the bear is wreaking havoc in neighborhoods.
Individuals in the area are reporting trashes have been rummage through, bird feeders knocked over, and in some cases chicken coups raided.
The black bear has been seen roaming around near the Gilbert Stuart Homestead and Museam. The last time the black bear in RI was last fall when it was spotted several times in North Kingstown. Charlie Brown a Wildlife Biologist with the DEM said it is likely the same bear that has returned after hibernating for the winter.
Matthew Largess, a certified arborist who has spent time studying black bears in RI said that the return of bears to RI is a good sign for the forest. "It's a good eco-indicator," said Largess. "It means the forest is coming back."
Largess explained that as the forest was cut down to make way for farm land in the colonial days bears moved out. Now that the forest is beginning to return so aren't the bears.
The DEM said that bears may be present in Rhode Island and have information regarding black bears on their web site. CLICK HERE TO READ ABOUT BEARS.
Brown said that Rhode Islanders should expect to co-habitat with bears in the future. He notes they are relatively shy animals that avoid human interaction and are unlikely to attract. He did say that humans should be cautious and leave the animals alone to avoid issues.
Largess said that there are probably several bears in RI and the number will increase in the next ten years.
As for the North Kingstown bear Largess has affectionately named him "Kingston," as in king of the forest.

People who see the bear are asked to contact the DEM at 401.220.3070.
© 2013 WLNE-TV