Black smoke and brackets: Pope predictions continue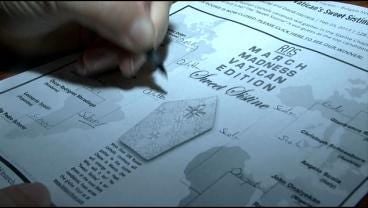 By Abbey Niezgoda
aniezgoda@abc6.com
The black smoke has cleared, but there is still a lot of anticipation in the air. Everyone is wondering when those red curtains will be drawn, revealing the next Pope.
The decision of who will be the next Pope is up to the 115 Cardinals sworn to secrecy inside the Sistine Chapel, but until then, plenty of predictions are popping up, including a March Madness style bracket posted by ReligionNews.com.
Dr. Jim Keating, a theology professor at Providence College, knocked out contenders one by one on the "Sweet Sistine" bracket he filled out for ABC6.
Topping his list, was Cardinal Angelo Scola from Italy, where most of the Popes have come from, and Cardinal Marc Ouellett, who is front runner because of his experience working in the Vatican.
Keating says he would love to see Boston Cardinal Sean O'Malley become the next pope, but he says with all of the power the United States already has in the world, its doubtful that the country will also control the Catholic church.
Whoever is elected to the position will need two-thirds of the vote – 77 cardinals.