Blackstone vermin-infested home cleaned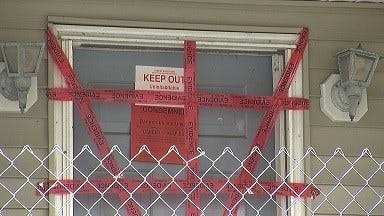 By Dana Griffin
@DanaRGriffin
BLACKSTONE, MA- Over the next four days, this home will look like a decontamination scene out of a movie. Crews will dress in full protective HAZMAT suits while they disinfect and gut the home where the bodies of three decomposing babies, dead animals and mounds of dirty diapers were found inside.
Town Administrator, Dan Keyes said, "You always say that my God, it doesn't happen in our town. Well, it did and there's no playbook for this at all and we're dealing with it the best way that we can and we just hope it doesn't happen again.
Police discovered the bodies inside the St. Paul Street home two weeks after four children were put in state custody after a neighbor reported neglect.
The mother of the two older children, Erika Murray has been charged with hiding the deaths. It's unclear who the children belong to.
Lee-Ann Defaut lives next door. She said, "It's like watching a Lifetime movie – you know what I mean– but this is real."
Defaut says she always smelled a foul odor but never noticed anything wrong with the kids.
"I did go to the door about four weeks ago. The dog did get loose but she kind of blocked the door and said ok thank you," said Defaut.
She wishes she knew Murray needed help and hopes it sends a message to the community to not turn a blind eye on neighbors.
The home is owned by a woman the town administrator says has some sort of relationship with Murray.
The owner will incur the cost of the clean up which could reach $20,000.
©2014 ABC6/WLNE-TV. All Rights Reserved.