Block Island government may vote on new ferry service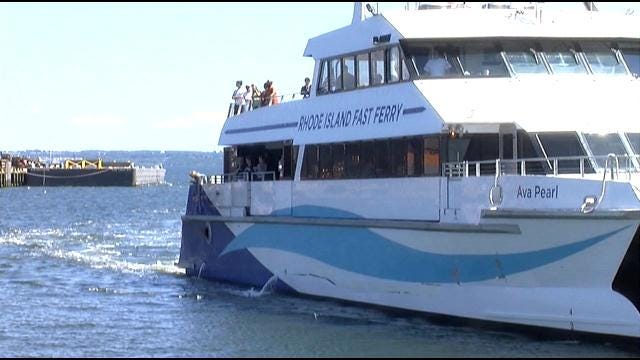 by ABC6 Chief Political Reporter Mark Curtis
The foggy, stormy waters on Narragansett Bay today, were probably a metaphor for the battle over ferry service.
The Quonset based ferry owner who operates to Martha's Vineyard now wants to provide ferries to Block Island.
"Well competition benefits the passenger; the visitor going to Block Island. The companies will strive to make their services much more efficient and also just a better experience for the travelers," said Charlie Donadio, owner of the Quonset/Rhode Island Fast Ferry.
Right now the Block Island ferry company is the only Rhode Island based service, running ferries from point Judith and Newport to Block Island.
ABC6 Chief Political Reporter Mark Curtis said, "The proposed ferry service from here at Quonset Point to Block Island would only be a seasonal service, whereas the Block Island Ferry would continue to operate on a year–round basis."
Block Island ferry owners did not respond to our interview requests today, but in the past said competition to their summer business, would jeopardize their ability to provide service all year.
"That income is very important in the summer months because it sustains the level of service and the rates that we can offer to the year–round residents of Block Island," Said Megan Moran of the Block Island Ferry on August 6, 2013.
But Quonset officials hope the New Shoreham Town Council on Block Island realizes more competition, means more business for all.
"I am hoping that what I am presenting to them is an incentive to see what the service can do in 3, 4 5, years out for their Island," said Charlie Donadio of the Quonset ferry service.
Ultimately the Rhode Island Public Utilities Commission could decide if there is one ferry service or two serving Block Island.