Body of Cape Cod Soldier Has Returned Home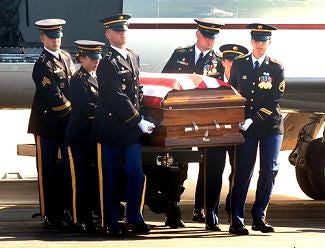 FALMOUTH, Mass. (AP) – A soldier from Falmouth killed in Iraq is making his final return home.
The body of Army Spc Matthew Gallagher is scheduled to arrive at Otis Air National Guard Base on Wednesday for a wake at Chapman, Cole & Gleason Funeral Home in Falmouth.
A funeral Mass is scheduled for Thursday morning St. Elizabeth Seton Parish in Falmouth, followed by burial at the Massachusetts National Cemetery in Bourne.
Gallagher would have been 23 on Tuesday.
The Pentagon says Gallagher died of non-combat related injuries on June 26.
His mother told the Cape Cod Times her son was in a housing unit when shots were fired. The incident remains under investigation.
Gallagher was with the 1st Cavalry Division based at Fort Hood, Texas.
Copyright 2011 by The Associated Press. All Rights Reserved.