Bogaerts' Six RBI Help Boston Bats Heat Up in Blowout of Tampa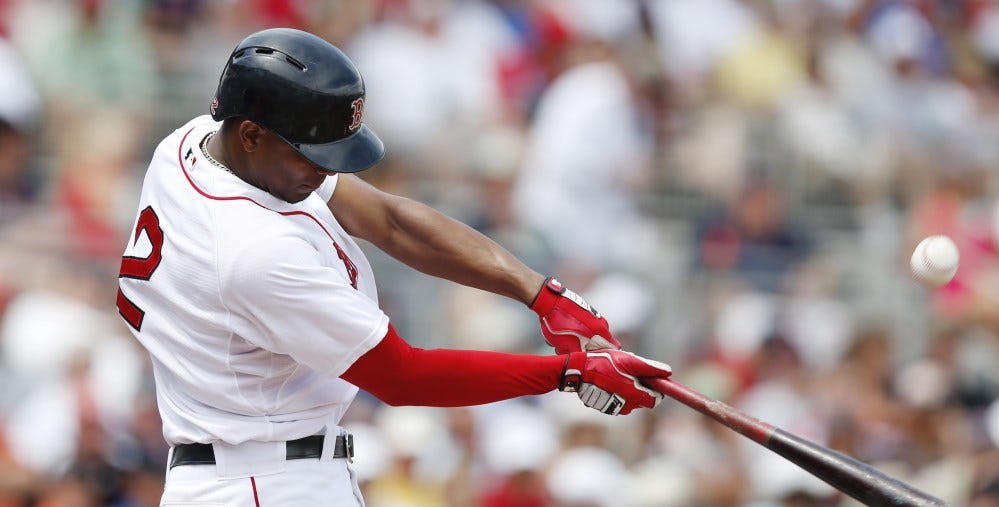 Xander Bogaerts hit the first grand slam by a Boston player since the end of the 2016 season and drove in a career-best six runs to carry the Red Sox to a 10-3 win over the Tampa Bay Rays on Saturday for their seventh straight victory.
J.D. Martinez hit his first home run since signing a $110 million, five-year contract during spring training as a free agent. Rafael Devers also connected.
This is just the second time in franchise history that the Red Sox have lost their season opener and won the next seven. The other came in 1904 when Boston captured the AL pennant.
The Rays have lost seven straight and are off to their worst start ever after rallying for a win at home over the Red Sox on opening day.
Tampa Bay infielder Daniel Robertson pitched a perfect eighth with a two flyouts and a popup, throwing seven strikes in 11 pitches.
Rick Porcello (2-0) gave up three runs and six hits, striking out seven without allowing a walk over 7 1/3 innings. He retired 20 of 21 batters _ and 17 in a row _ after giving up two runs in the first.
Bogaerts had a two-run double to help erase a 2-0 deficit during a four-run first. In the second, his second career slam completely left Fenway Park over the Green Monster and came after Jake Faria (0-1) walked the bases full to make it 8-2.
Faria gave up a career-high eight runs while getting just five outs.
TRAINER'S ROOM
Rays: CF Kevin Kiermaier was out of the lineup because he was sick.
Red Sox: Manager Alex Cora said LHP Drew Pomeranz (strained left forearm flexor) was going to make a rehab start for Triple-A Pawtucket on Sunday and is planned to go five or six innings. Cora also said that it's "most likely" that he'd return to the rotation if things went well.
STREAK CONTINUES
The Red Sox have won 22 straight games when they give Porcello three or more runs. In his last 33 starts when they've scored 3-plus, he's 28-0 with a 3.26 ERA.
THEY END
The last slam by a Red Sox player was by Dustin Pedroia on Sept. 24, 201,6 on the road against the Rays when Porcello picked up his last victory of his AL Cy Young Award-winning 22-4 season.
Also, Boston's starters had held opponents to one or no runs in the first seven games before the Rays scored twice on Brad Miller's double in the first.
CHILLIN'
With morning temperatures in the upper 30s, most of Boston's players that took BP on the field wore winter hats or had hooded sweatshirts over their heads.
Pitchers that got their throwing in were bundled up in right field. OF Andrew Benintendi and a few other starters decided to hit inside instead.
The Rays didn't hit on the field.
UP NEXT
Rays: With another bullpen game scheduled, manager Kevin Cash planned to announce Sunday's starting pitcher after the game.
Red Sox: LHP Eduardo Rodriguez is set to make his 2018 debut. He's been on the disabled list since March 26th recovering from offseason right knee surgery.