Bombing case focuses on death penalty & suspect's wife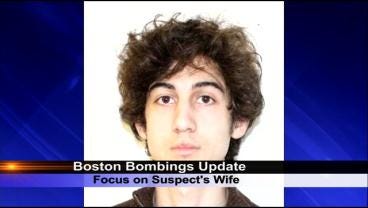 by Mark Curtis ABC6 Chief Political Reporter
Prosecutors in the Boston Marathon bombings will eventually have to decide whether or not suspect Johar Tsarnaev should face the federal death penalty.
Given that it was an act of terrorism, involving a weapon of mass destruction, one lawmaker says the death penalty must be considered.
Sen. Jack Reed (D) Rhode Island said, "I am confident the federal courts can conduct a fair trial and convict the individual and the Attorney General will make the decision about the death penalty, but I certainly think it should be considered. This was a heinous, heinous act."
One key to this case may lie in this North Kingstown home.
24 year old Katherine Russell lives here.
She married the now dead bombing suspect Tamerlan Tsarnaev.
ABC6 Chief Political Reporter Mark Curtis said,
"While the investigation goes on, questions continue about what Katherine Russell knew about her husband's activities before the Boston bombing."
The media has been camped outside the house since Friday, but the Russell's have said little.
Lawmakers are urging them to cooperate.
Sen. Jack Reed said, "I don't think we can attribute any type of culpability or anything else but, I don't know. But I think cooperation is the minimum we can expect from anyone with any knowledge or information about the individuals, and their activities"
Governor Chafee is also urging Russell and her parents to cooperate, and like many Rhode Islanders is stunned by the state's link to the Boston bombing.
Governor Lincoln Chafee (I) Rhode Island said, "In every little leafy cul–de–sac, who knows what news might break. And it just occurred in North Kingstown Rhode Island."
Chafee also said he remains opposed to the death penalty across the board, including in this case.