Herb Chambers gives bombing hero in cowboy hat new truck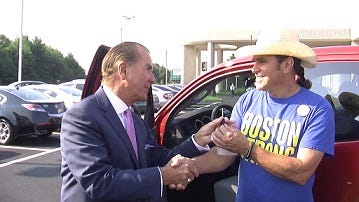 By: Alexandra Cowley
One of the heroes who emerged after the bombing, the man in the cowboy hat, who helped save one of the victims at the marathon, is calling someone else a hero Today.
Carlos Arredondo was presented with a brand new truck Tuesday Morning. It was an emotional morning for Arredondo as Herb Chambers handed him the keys to a 2014 Toyota Tacoma in his favorite color, red.
Most of us know Carlos Arredondo from the now famous image of him holding a tourniquet to stop the bleeding on Jeff Bauman, who lost both legs when the bombs went off during the marathon.
Arredondo became known as the hero in the cowboy hat, and today he called the community heroes, for helping him. His old truck was on its last leg, and when word got out of a fundraiser to get new air conditioning for Arredondo's old truck, Herb Chambers stepped in and did one better.
Herb Chambers called Arredondo a hero, "When I see a person like you, and I admire and respect what you did, and to be that caring."
The general manager of Herb Chambers found the fundraiser for Carlos online. The Fundraiser, started by Lori Tosches, had raised 5,895 dollars for the new air conditioning in his old truck.
Instead, he got a 2014 Toyota Tacoma, with a boston strong sticker already on the tailgate.
Carlos will only be responsible for filling up the tank, Herb Chambers is also paying for the taxes and registration on the new truck.
(C) WLNE-TV 2013