Bonniedale Farm owner: I did not abuse horse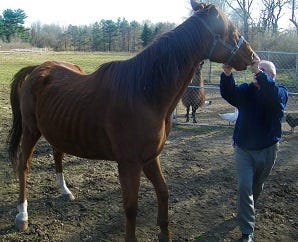 Dee DeQuattro
ddequattro@abc6.com
The owner of Bonniedale Farm, an animal sanctuary in North Scituate says he did not abuse a horse in his care.
Dan McKenzie was arraigned on an animal neglect charge at Kent County Courthouse on Wednesday morning after the Rhode Island Society for the Cruelty of Animals removed a horse from his farm.
McKenzie pleaded not guilty to the charge and was released on personal recognizance. Dr. Finnochio of the RISPCA says the horse was neglected and not properly nourished under McKenzie's care. The animal's previous owner identified as "Monique" said the horse lost 225 pounds while on Bonniedale farms.
McKenzie blamed the previous owner for the animal's condition.