Boston Bomber in Court; Faces Possible Death Sentence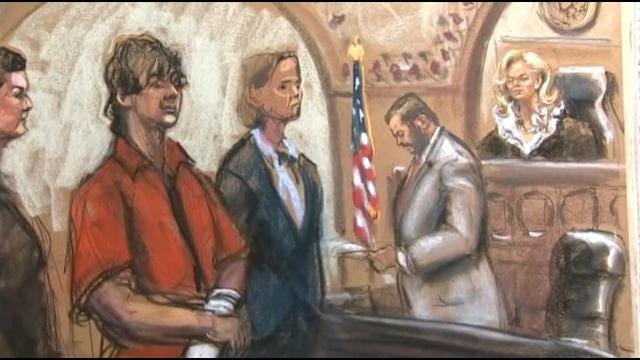 by ABC6 Chief Political Reporter Mark Curtis
Under heavy guard, accused marathon bomber Dzhokhar Tsarnaev was brought to the federal courthouse in Boston.
He appeared before the judge in his orange jail jumpsuit, only saying the words "not guilty" seven times, to various groups of criminal charges. Hundreds of people came to watch the spectacle – inside and outside the courthouse -including victims and friends.
Robert Wheeler, a victim's relative said, "He's a man who does not deserve a name, in my opinion, when it comes down to it."
In one of the most poignant moments, two dozen MIT police officers stood vigil across from the Courthouse, in honor of fellow officer Sean Collier, whom Tsarnaev and his late brother Tamerlan are accused of killing.
Meantime, security was extremely tight, with bomb sniffing dogs checking the area, as hundreds of media from around the world looked on. Many bystanders hope Dzhokhar gets the death penalty.
Dan Delvechio was at the Boston Marathon and said, "These poor people. I can't even imagine. People lost legs, people lost family. It's terrible, so."
But the 19 years old accused Islamic terrorist, even had supporters here, too. They believe he is innocent.
Hailey Goodin, a Tsarnaev supporter said, "A lot of them (the photos) were tampered with – photo shopped. And I could actually prove that myself."
Legal experts call such claims ridiculous. The Tsarnaev brothers were caught on security cameras, numerous times – before; during; and, after the bombings, in a four-day manhunt to capture them.
Attorney Ken Schreiber, a legal analyst who's been following the case said, "What has been released to the general public, just for his apprehension, shows overwhelming evidence against him."
Tsarnaev was handcuffed, held without bail, and could face the death penalty.
ABC6 News Reporter Mark Curtis said, "Prosecutors plan to call as many as 100 witnesses, in a case that could last 3 to 4 months. The judge said she would like to see the trial begin, 'sooner, rather than later.'"