Boston bomber officially indicted on 30 counts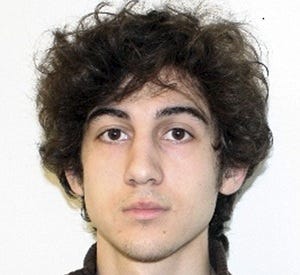 Dee DeQuattro
The Federal Grand Jury handed down a 30 count, 75 page indictment on Thursday against Dzhokhar Tsarnaev for his involvement in the Boston bombings.
19-year-old Tsarnaev and his older brother Tamerlan were accused of planting two pressure cooking bombs at the finish line of the Boston Marathon on April 15. Tamerlan was killed during a police chase a few days after the bombing.
The indictment includes information about how Tsarnaev followed "Inspire" an online al-Qaida magazine that allegedly caused him to turn to terrorism.
During the hearing, court documents stated Tsarnaev wrote multiple messages throughout the boat.
"The U.S. government is killing our innocent civilians…I can't stand to see such evil go unpunished… We Muslims are one body, you hurt one you hurt us all… Now I don't like killing innocent people it is forbidden in Islam but due to said (unintelligible word) it is allowed… Stop killing our innocent people and we will stop."
Tsarnaev was previously charged with use of a weapon of mass destruction and malicious destruction of property resulting in death.
He is currently being held at the Fort Devens medical prison in Massachusetts.
(C) WLNE-TV 2013